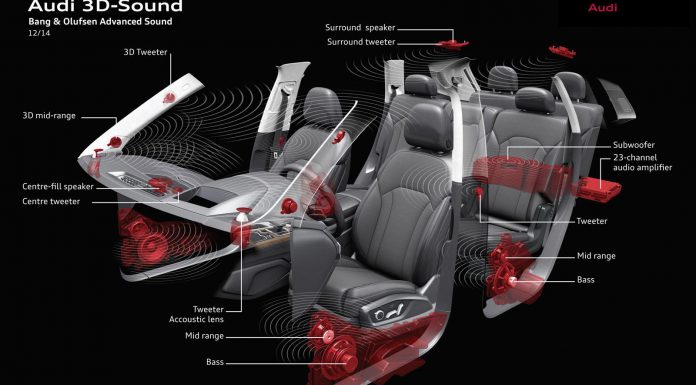 Just a few days after the wraps were taken off the 2015 Audi Q7 SUV, the German manufacturer has unveiled details about the advanced 3D sound system available in the new Q7 and set to be made available in other Audi products soon.
The Bang & Olufsen Advanced Sound System as it's officially called includes 23 speakers alongside a 250 mm subwoofer complemented with a 1920 watt amplifier. A Bose Surround Sound system is also available with 20 speakers included four speakers located high up in the car to generate a so-called "third dimension" of sound hence the 3D name.
At the core of the 3D sound systems is a complex algorithm which calculates the control signals for each speaker. What this means is that when a song is playing, the algorithm is able to calculate a mathematical model of any recording room where the song was originally recorded. The system them reassembles all of the sound portions to reflect the original recording room.
Discussing its advancing sound systems, the company said, "With 3D sound, Audi keeps up its tradition of breaking new ground in the hi-fi sector. 2005 saw the advent of high-end sound in the Audi A8 with the Bang & Olufsen Advanced Sound System. The Danish hi-fi specialist's premium sound reached the compact category in 2012, when it first featured in the third-generation Audi A3".