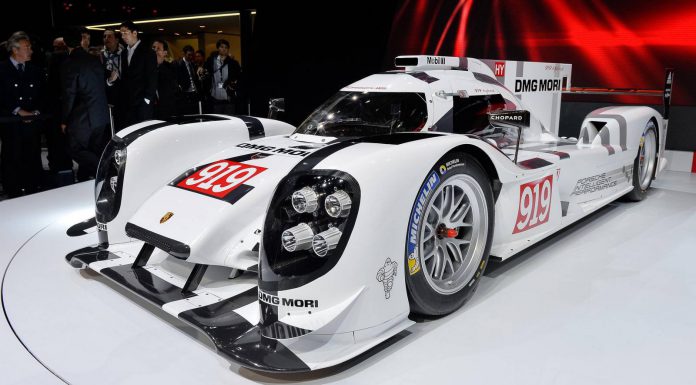 The first details about the 2015 Porsche 919 Hybrid LMP1 racing car have emerged with the German marque promising a plethora of updates for the updated racer.
While full details have yet to be revealed, Porsche has revealed that it is heavily optimised over the existing 919 Hybrid and is promising to be better suited to the range of race tracks set to be featured in the 2015 World Endurance Championship.
2014 Porsche 919 Hybrid at the Geneva Motor Show 2014

The first real track testing of the 2015 Porsche 919 Hybrid will commence from January 18 to 22 in Abu Dhabi.
Discussing the car, Porsche's technical director of the LMP1 program, Alexander Hitzinger said, "The roll-out of a new race car is always a milestone, and anticipated with great excitement by everyone involved. It was our target to get the Porsche 919 Hybrid for the 2015 season on its wheels before Christmas, and now we have achieved this."
As for the 2014 Porsche 919 Hybrid, it is powered by both a four cylinder petrol engine with a V-angle construction and two different energy recovery systems. The petrol engine features direct injection and single turbo-charging; it has a displacement of 2 litres and a maximum engine speed of 9000 rpm. As for the two energy recovery systems, the first one utilizes exhaust gases to recover thermal energy. There is also an electric generator that is powered by these exhaust gases.