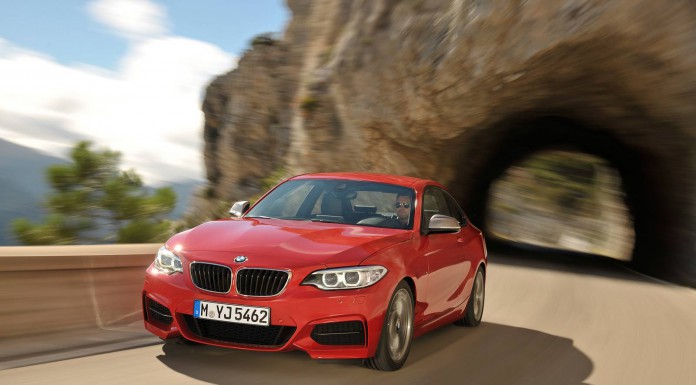 Unveiled last year, the BMW 2-Series provides dynamics beyond those of the 1-Series in a sleeker looking body. As it stands, the range-topping 2-Series model is the M235i but next year, a 380 hp BMW M2 variant is expected. Before the M2 arrives however, the German firm has unveiled a new entry-level version of the 2-Series fitted with a 3-cylinder petrol engine.
This new engine has been fitted to the BMW 218i Coupe and thanks to BMW's staple TwinPower turbocharged technology, it manages to deliver 136 hp from its 1.5-litres as well as 162 lb-ft of torque. This engine is currently employed by the Mini Cooper but unlike the Mini, the engine now drives the rear wheels through an optional eight-speed automatic transmission or a six-speed manual.
As you'd imagine, this little engine doesn't provide world-beating levels of performance. With that in mind, it reaches 100 km/h in 8.8 seconds with the six-speed manual and reaches the same mark in 8.9 seconds with the automatic. Top speed for both transmissions sits at 212 km/h (132 mph). One of the key points for the BMW 218i Coupe is that it features a 50:50 weight distribution and consequently promises enjoyable handling characteristics.
Elsewhere, BMW has unveiled a selection of new features for the 2-Series range in Europe. Firstly, the diesel 220d is now available with all-wheel drive while the Advantage, Luxury Line, Sport Line and M Sport equipment packages have been added to the options list.
Note: BMW M235i pictured