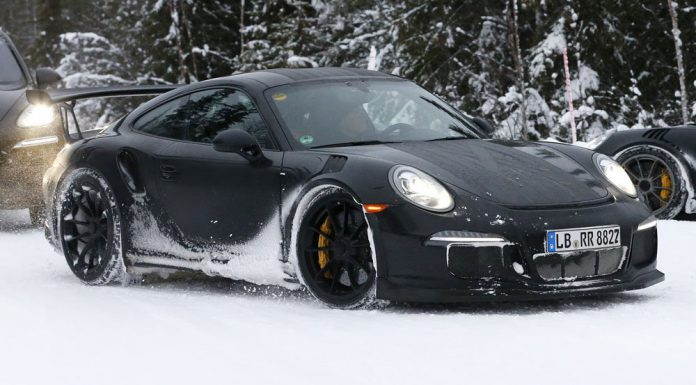 The most revealing prototype of the 991-generation 2015 Porsche 911 GT3 RS has been spied in the midst of winter testing with absolutely no camouflage.
Due to the lack of camouflage, this test mule provides us with our best look at the production-ready Porsche 991 GT3 RS thus far. Compared to previous testers, this particular car features a revised rear wing which is expected to be maintained for the completed car.
Elsewhere, new gills can be found on the front fenders which were only previously visible in leaked scale models of the new 911 GT3 RS. Despite the presence of new side air intakes, the new Porsche 911 GT3 RS will remain naturally aspirated in a nod to tradition and despite recent rumours suggesting all 911 variants will be turbocharged in the future. The tweaked engine is likely to push power up towards the 500 hp mark.
Unfortunately, a manual transmission will not be made available with the same dual-clutch transmission of the 'standard' GT3 likely to be maintained. Another new feature will be a pit-lane function which at the press of a button, will limit the car's speed in a pit-line during racetrack visits.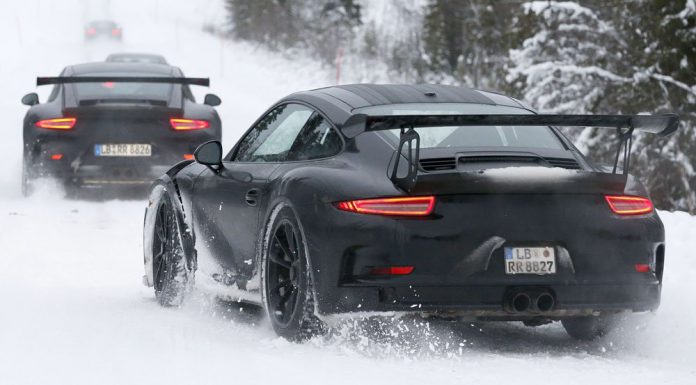 According to recent reports, the 2015 Porsche 911 GT3 RS lapped the Nurburgring Nordschleife in a mere 7 minutes and 20 seconds.