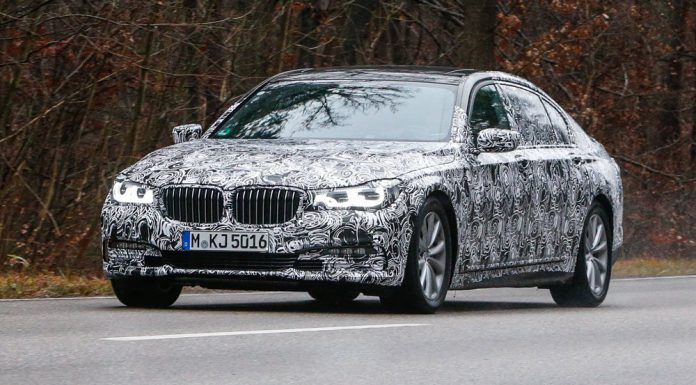 Following numerous spyshots of the next-generation BMW 7-Series, we know that the new German luxury sedan will receive a thoroughly revised exterior. Now more details about the interior of the new 7-Series have emerged with the changes inside set to be even more comprehensive than those on the outside.
For starters, the new G11/G12 generation BMW 7-Series will feature a keyfob similar to the BMW i8 as well as an advanced Bowers & Wilkins Audio System. Additionally, the new 7-Series will include wireless charging for phones, a WiFi hotspot, a range of new climate packages, new seats for rear passengers as well as a touchscreen for the updated iDrive system.
Elsewhere, the new BMW 7-Series will be available with an Active Comfort Drive system alongside an Advanced Parking Assist Package. This new package alongside the i8-inspired keyfob will mean 7-Series drivers will be able to park their cars with nothing but the keyfob! Additionally, customers will have the choice between full-LED headlights or optional laser headlights.
[Via BMW Blog]