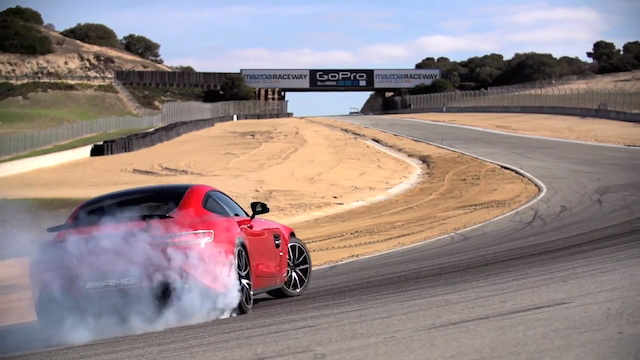 The new Mercedes AMG GT has its eyes firmly set on the Porsche 911 and if initial reports are correct, including our own, it may just be the sports car of choice.
Mr. Harris appears to have fallen for the charm of the German muscle car, particularly when he switched off the traction aids and smoked some tyres! Enjoy!
[youtube]http://youtu.be/CRubofSy7jE[/youtube]
Naught to 100 km/h is done in 3.8 seconds for the AMG GT S and in 4.0 seconds for the AMG GT. The 2015 Mercedes-AMG GT S has a top speed of 310 km/h and the AMG GT tops out at 304 km/h. The AMG GT and the AMG GT S weigh 1540 and 1570 kilogram respectively. As we experienced on the road it is the rolling sprints where the AMG GT (S) really excels.