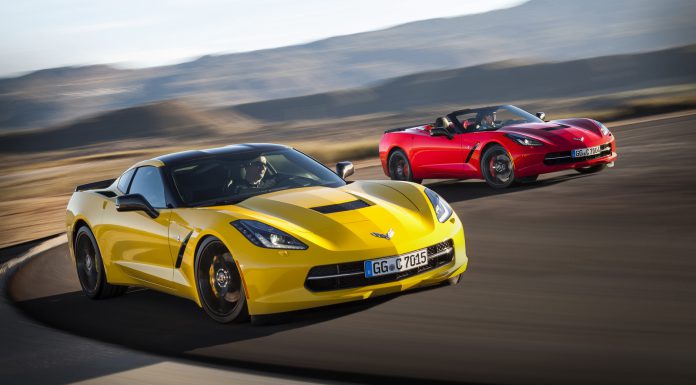 Chevrolet has just detailed and released dozens of photos of the European-spec Corvette Stingray not long after the American sports car went on sale across the Atlantic.
From a price standpoint, the C7 Corvette Stingray starts at 74,500 euros in Germany. That equates to around $92,000 in the U.S. despite the fact that the latest-generation Corvette actually retails for a mere $54,995 on home soil.
Interestingly however, all European bound Corvette Stingrays come standard with the normally optional Z51 performance package. This package consists of an electronic limited-slip differential, dry-sump oiling system, tuned shocks and springs, additional stabiliser bars and more dedicated brake, differential and transmission cooling. Additionally, the Z51 Performance Package includes revised gear rations, beefed up brakes and tyres as well as a few new aerodynamic parts.
The C7 Chevrolet Corvette Stingray has actually been available in select parts of Europe since April but these galleries provide us with our first up close look at the car. Beyond the aforementioned upgrades, the European-spec Corvettes remain mechanically identical to those from the U.S. That means the same 6.2-litre V8 engine delivering 460 hp and 465 lb-ft of torque is featured.