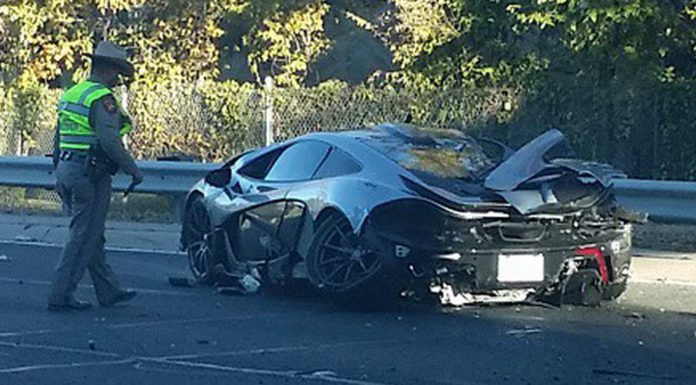 We've already come across a few minor McLaren P1 incidents since deliveries of the British hybrid hypercar began. Now however, images and details of a much more serious P1 crash have emerged after a silver example was destroyed in Dallas, Texas.
Details about the crash remain completely unclear at the moment but the damage is obvious. The entire front-end has been destroyed with the passenger side door detached from the car. Additionally, the passenger side wheels are damaged while the rear end has also been completely wrecked.
Interestingly, the driver side of this silver McLaren P1 has also been badly damaged suggesting that it hit the crash barrier at least twice after spinning out of control. There's a good chance that the carbon fibre monocoque remain intact considering how strong the Monocell is, but there's no doubting the obvious fact that this P1 is a complete and utter write-off.
According to one reported witness at the scene, parts from the P1 could be found over 300 metres away from the crash scene itself. The condition of the driver and any possible passenger remains unclear.
Update: It has emerged that the 27-year-old owner took delivery of the P1 just 24 hours before the crash. He and the 24-year-old passenger suffered non-life threatening injuries.
[Via Davesplace, kcox007]