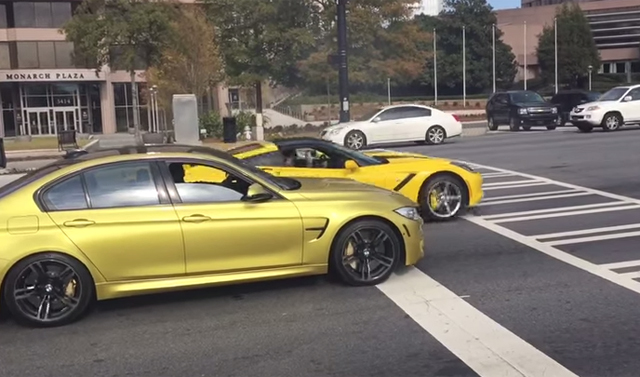 When it leaves the factory, the Chevrolet Corvette Stingray C7 can sprint to 100 km/h in just under 4 seconds. Despite being significantly heavier and delivering 30 hp less, the latest-generation BMW M3 reaches 100 km/h in about 4 seconds as well.
[youtube]https://www.youtube.com/watch?v=LvtWa2xjW18[/youtube]
While outside a car show in the U.S., a new Corvette lined up against an Austin Yellow M3 for what would have been a very close race. For whatever reason, the Corvette owner decides to do a massive burnout instead of racing the M3 and almost manages to crash the car!
As the video shows, the Corvette owner loses control of the 455 hp V8 powered American sports car and the tail-end kicks out violently to the left. It then fishtails to the right coming within inches of hitting a concrete crash barrier!