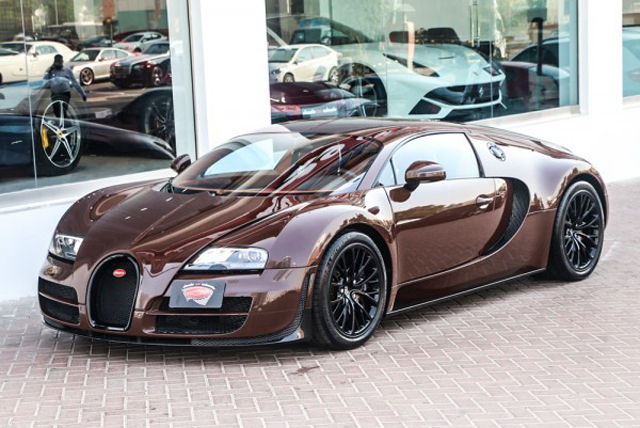 An eye-catching brown 2012 Bugatti Veyron Super Sport is currently up for sale through Deals on Wheels in Dubai in the United Arab Emirates.
Despite being a 2012 model, this particular Veyron Super Sport has a mere 800 km on the clock. Alongside the gloss brown exterior, the car features a bright leather interior combining brown across the steering wheel, dashboard and door trims while orange leather is then found on the transmission tunnel, pillars, roof and of course the ultra-bright seats. The car has an asking price of 9 million AED which is the equivalent of $2.45 million.
The Super Sport is a stunning combination of pretty design and engineering greatness. Powering the Bugatti Veyron Super Sport is an 8.0-liter quad-turbo W16 engine lifted from the regular Bugatti Veyron (if there's such a thing). However, in Bugatti Veyron Super Sport guise, this spectacular powerplant now produces an insane 1200 hp and will consequently result in the Super Sport to sprint to 100 km/h in just 2.5 seconds and onto its record-setting top speed of 430 km/h.