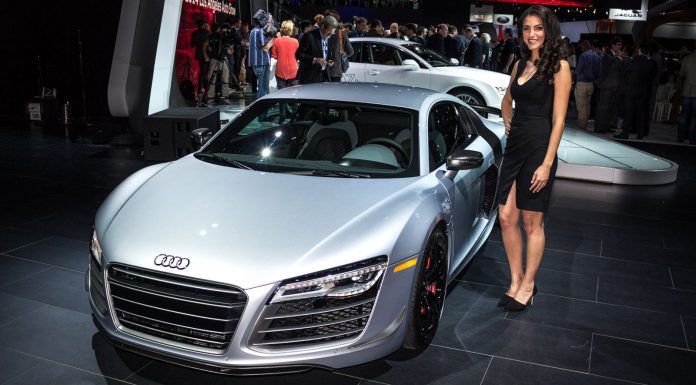 The US-only Audi R8 Competition has landed at the Los Angeles Auto Show 2014. Loosely based around the successful Audi R8 LMS customer race car, the Audi R8 Competition is the most powerful R8 model yet. Only 60 examples will pass through US showrooms, we took a closer look at the car Audi have on display!
The Audi R8 Competition gets the 5.2 litre V10 powerplant with an extra 20 hp, lifting the total figure up to 570 hp. The headline figures are performance related. With a 0 to 60 mph time of just 3.2 seconds and a top speed of just 199 mph, the naturally aspirated Audi R8 Competition is an attractive proposition.
The exterior receives lightweight matte carbon elements including a fixed rear spoiler, engine bay, mirror housings, side blades, front spoiler, rear diffuser and a set of black high-gloss tailpipes. The wheels are gloss black 305 cross-section rear tires with ceramic brakes and anodized red brake calipers.

Customers can begin ordering the Audi R8 Competition as early as November with deliveries expected at the beginning of 2015. To find out more about the Audi R8 Competition, take a look at our earlier article. For all the latest news from the Los Angeles Auto Show 2014, take a look at our dedicated news feed!