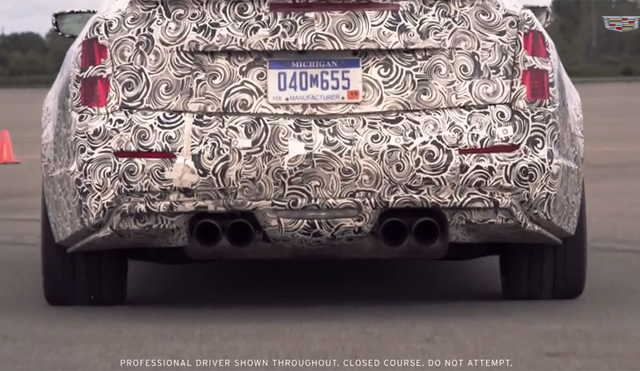 Just before the 2016 Cadillac ATS-V Coupe is revealed, a second teaser video of the BMW M4 Coupe rival has been released. Whereas the first video showed the car doing an impressive burnout under heavy camouflage, this one shows it accelerating and perfectly showcases the exhaust note for the very first time.
[youtube]https://www.youtube.com/watch?v=bFybo0PPoLA[/youtube]
Beneath the skin, the 2016 Cadillac ATS-V will use the long-rumoured 3.6-litre twin-turbocharged V6 currently employed by the CTS Vsport. However, Cadillac's engineers have managed to extract more power and torque resulting in 450 hp and 445 lb-ft. This extra power has been achieved thanks to new titanium connecting rods, titanium turbocharger turbines, two water-to-air intercoolers as well as a new radiator dedicated to the transmission and electronically locking differential.
All of this power is sent through the rear wheels via either a six-speed manual transmission or a single clutch eight-speed automatic 'box. To handle the power and torque and to deliver the power to the ground, sticky Michelin Pilot Super Sport tyres will come standard. When combined with a weight of around 1600 kg, the 2016 Cadillac ATS-V Coupe promises to be very evenly matched to the 425 BMW M4 Coupe and the 469 hp Mercedes-AMG C63.
The car will debut at the Los Angeles Auto Show 2014.