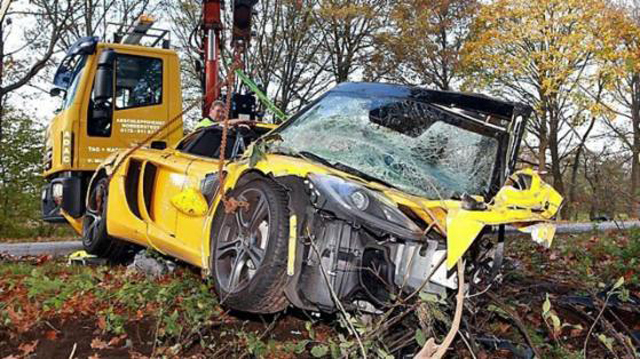 Two people have been killed after a yellow McLaren 12C crashed at high speed in Germany on November 8.
According to reports, the driver of the British supercar lost control while driving on a wet and slippery road. The McLaren 12C then careened into oncoming traffic and hit a small black Opel Corsa head on.
Immediately following the impact, the 57-year-old driver of the Corsa was killed and after the 12C came to rest against a tree in a steep ditch, its driver later died in hospital. Onboard the 12C was also an eight year old boy who fortunately survived the crash albeit with serious injuries.
As you would imagine from such a high speed crash, both cars were absolutely destroyed with the carnage spread across the road.
[Photos via Bild]