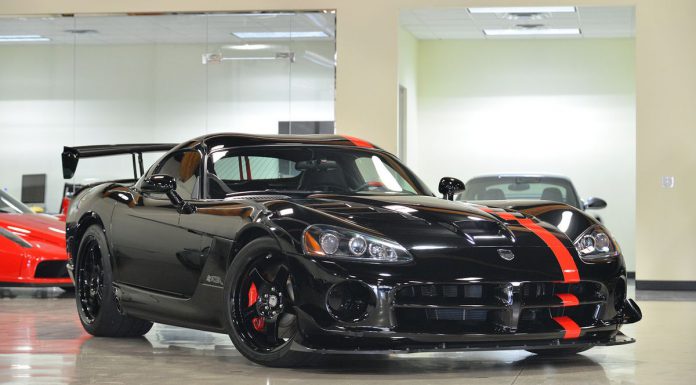 At SEMA 2014, Dodge revealed the new Dodge Viper SRT ACR Concept. While the car has yet to hit the production line, it will in the near future and act as the most track-focused variant of the latest-generation Viper. If you're in the mood to pick up a bargain however, the 2008 Dodge Viper SRT-10 ACR could be the best bet and this particular example will set you back $88,888.
Currently up for sale in Los Angeles from Fusion Luxury Motors, it has a mere 3447 km on the clock and considering its been cared for and properly maintained, should perform as if it is brand new. And when the Viper ACR was introduced, boy did it perform impressively!
Beneath the skin, the SRT-10 ACR's 8.4-litre V10 engine delivers 600 hp and is enough to rocket the car to 96 km/h (60 mph) in just 3.6 seconds and a 317 km/h top speed. Most impressively however, the Dodge Viper SRT-10 ACR can lap the Nurburgring in a mere 7 minutes and 12 seconds!