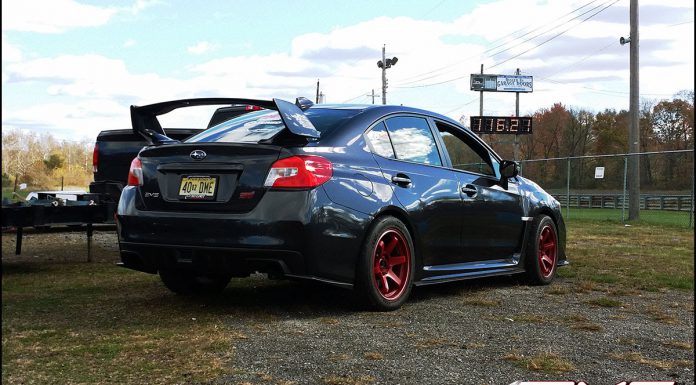 The mighty 903 hp McLaren P1 hybrid hypercar is currently the world's fastest production car down the quarter mile. As a matter of fact, it has recorded an incredible 9.8 second run. However, a 2015 Subaru Impreza WRX STI has just shown that you don't need multi-million dollar hybrid technology to complete a sub-10 second quarter mile in a street car.
[youtube]http://www.youtube.com/watch?v=Jxk4Pt55pp8[/youtube]
Thanks to an AMS Performance turbocharger kit as well as a new front mount intercooler for the latest-generation Subaru Impreza WRX STI, the car recorded a spectacularly fast 9.681 second pass at 237 km/h (147.39 mph)!
When left standard, the 2015 STI's 2.5-litre turbocharged boxer engine delivers a total of 305 hp at 6000 rpm and 290 lb-ft of torque at 4000 rpm. This engine employs the Dual Active Valve Control system and is teamed with a specifically reinforced 6-speed manual transmission.