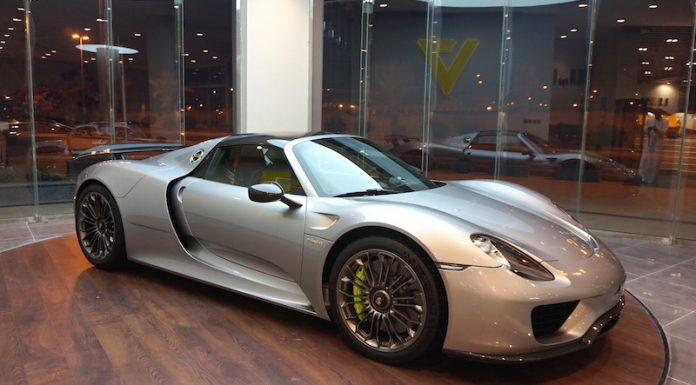 Another silver Porsche 918 Spyder has just been listed up for sale in the Middle East with this particular example residing in the showroom of Seven Car Lounge in Riyadh, Saudi Arabia.
Whereas the McLaren P1 has been spotted finished in all manner of colours, Porsche 918 Spyder customers are clearly opting for more subtle paint finishes just like LaFerrari owners. With that in mind, this particular 918 Spyder is finished in a light shade of silver. It also features a carbon fibre roof, carbon rear wing, green brake calipers and wheels similar to the original 918 Spyder Concept of 2010.
In the cabin, red leather is found across the centre console, transmission tunnel, seats, door panels and the dashboard. There are also a selection of components finished in black leather like the steering wheel as well as a plethora of carbon fibre accents.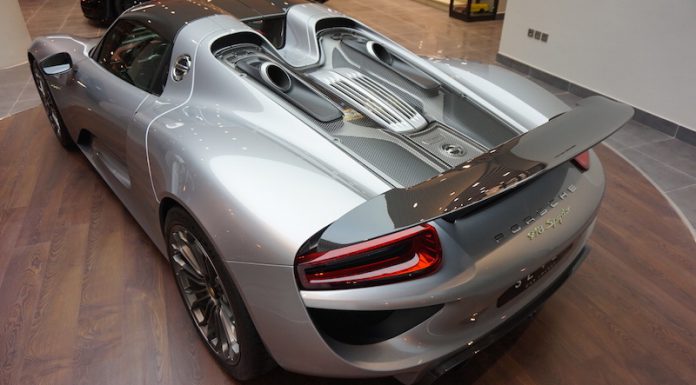 Under the hood, the Porsche 918 Spyder uses a mid-mounted 4.6-litre V8 engine producing 608 hp independently – the highest specific power of any naturally aspirated Porsche engine. The V8 is then supplemented by a further two electric motors mounted on each axle. The electric motors can either drive the wheels independently or work together with the engine to boost performance. Each motor produces enough power to boost the total figure to an amazing 887 hp. A seven-speed Porsche Doppelkupplung (PDK) controls power delivery to the rear wheels.