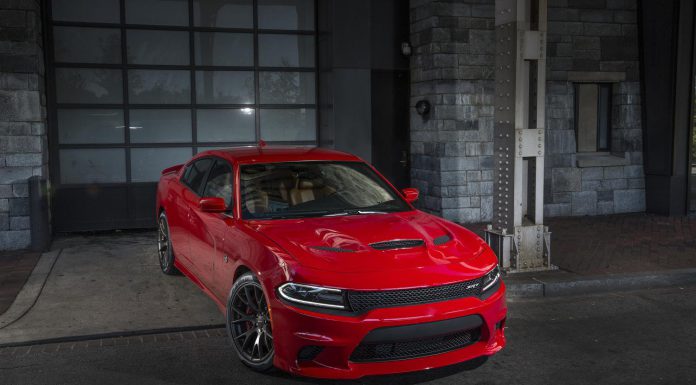 The first reviews of the 2015 Dodge Charger SRT Hellcat are just beginning to emerge and while we've yet to get our hands on the world's most powerful production sedan, we do have the following gallery to share with you. This gallery features a gorgeous Charger SRT Hellcat finished in TorRed and when combined with gloss black wheels, it looks excellent!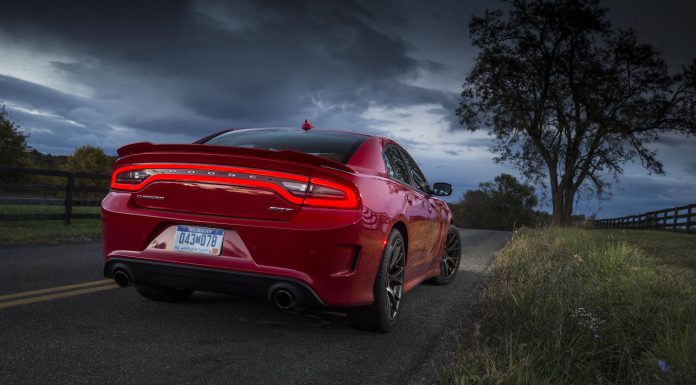 Beneath the skin, the Dodge Charger SRT Hellcat features a truly absurd 6.2-litre supercharged V8 engine delivering 707 hp and 650 lb-ft of torque. As a result, Charger SRT Hellcat completes the quarter mile in 11 seconds flat on street tyres, hits 96 km/h (60 mph) in 3.7 seconds and reaches a top speed of 328 km/h (204 mph). It will also go from a standstill to 160 km/h back to zero in under 13 seconds.
Just like the Challenger SRT Hellcat, this engine is mated to a TorqueFlite heavy duty eight-speed automatic transmission capable of performing 160 millisecond shifts with rev-matching. Braking is provided by the largest brakes ever offered by the Chrysler Group and the same as those from the Challenger with 15.4 Brembo two-piece rotors at the front with six-piston calipers.
From a visual standpoint, many of the body panels of the regular Charger have been maintained. With that being said, the Charger SRT Hellcat is immediately identifiable thanks to the ultra-aggressive front fascia and brand new power-bulge aluminium bonnet. The bonnet includes a dedicated cold air intake like the original Dodge Viper and dual air extractors to ensure effective removal of heat and to reduce turbulence in the engine compartment.