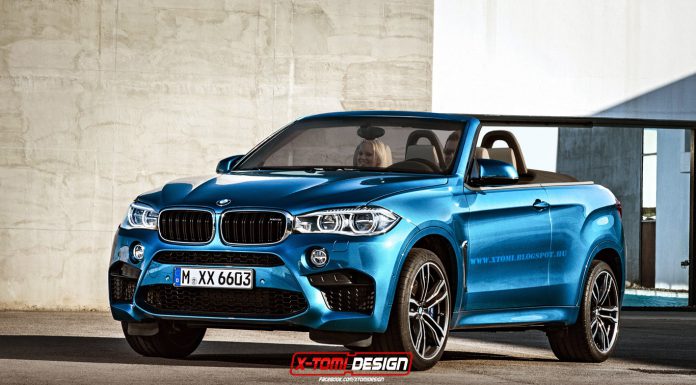 Here's a car which will never come to fruition but is quite amusing to imagine; a 2015 BMW X6 M Cabriolet. Not only would a droptop variant of the X6 M completely destroy the handling characteristics of what promises to be the fastest SUV around the Nurburgring, but it also destroys the overall look of the potent X6 M.
Nevertheless, X-Tomi Design decided to render such a car and while the idea of an X6 M Cabriolet is a poor one, the quality of the rendering is actually quite high. Alongside the removal of the roof, the car has also dropped two doors to essentially become an off-road variant of the BMW M4 Convertible!
As for the real X6 M and its X5 M sibling, it features a twin-turbocharged 4.4-litre V8 engine tuned to deliver an extra 12 hp and 53 lb-ft of additional torque over the pre-facelift model. This results in 567 hp and 553 lb-ft of torque at a very low 2200 rpm. When it is all said and done, both the new BMW X5 M and X6 M sprint to 100 km/h (62 mph) in a brisk 4.2 seconds when using the potent launch control system. That is entry-level supercar levels of acceleration.
[Via X-Tomi Design]