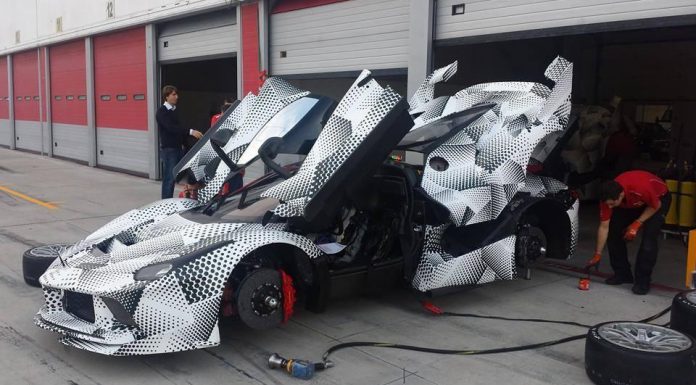 A prototype for the upcoming Ferrari LaFerrari XX has been spied testing up close and under heavy camouflage at Italy's Adria Raceway.
From a visual standpoint, some key aerodynamic changes are immediately noticeable. For example, the prototype features an extended front splitter, new side skirts and an interesting rear wing design featuring two small yet prominent fins.
The interior of the LaFerrari XX was also spied and it is dramatically different from the road-going LaFerrari. As a matter of fact, only the electronic gauge cluster and the steering wheel seem to have been maintained. Admittedly, this is just a test mule and the interior is far from finished.
According to reports, power from the LaFerrari's 6.3-litre V12 and HY-KERS electric motor system will be bumped up from 950 hp to 1050 hp.
To give you some idea of how fast the LaFerrari XX will be, it's worth comparing it to the FXX. Based on the Ferrari Enzo, the Ferrari FXX Evoluzione delivers 850 hp and can reach 100 km/h in just 2.5 seconds and a theoretical top speed of 400 km/h! Add an extra 200 hp to that and the LaFerrari XX should really break the barriers of what we think cars available to private customers cars capable of.
Beyond power upgrades, we now that the LaFerrari XX will weigh less, produce more downforce, feature improved aerodynamics, new suspension and retuned traction and stability systems compared to the road car.
[Via World Car Fans]