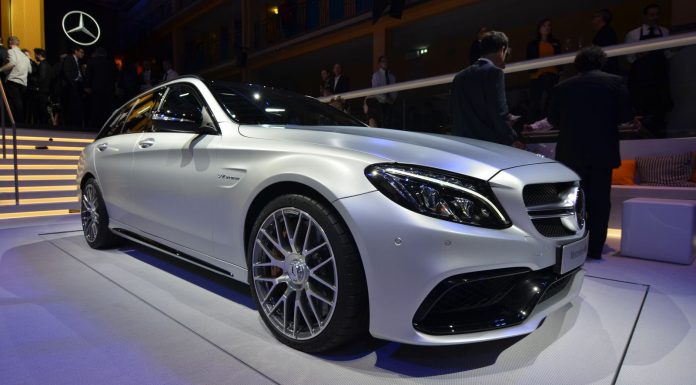 The 2015 Mercedes-AMG C63 and C63 S represent a landmark shift in the history of Mercedes-Benz and fittingly, have debuted at the always amazing Paris Motor Show. Not only is the car brand new but it also wears a new name in line with the nomenclature of the Mercedes-AMG GT. Designed to rival the latest BMW M3, GTspirit had an extensive look of the car at Paris.
Two differently powered variants of the Mercedes-AMG C63 are available. The 'regular' model as well as the C63 S. Both models feature the same 4.0-litre twin-turbocharged V8 engine as the Mercedes-AMG GT. The AMG C63's engine is differentiated from the GT's in that it doesn't feature dry sump oil scavenging meaning it is now dubbed the M177 instead of the M178.
The entry-level 2015 Mercedes-AMG C63 delivers a total of 469 hp at 5500 rpm as well as 479 lb-ft of torque between 1750 and 6250 rpm. These figures represent an 18 hp gain and a 37 lb-ft increase in torque over the previous-generation C63 AMG. In the range-topping Mercedes-AMG C63 S, the car delivers a potent 503 hp at 5500 rpm and 516 lb-ft of torque from 1750 to 6250 rpm. This is even more power than the old C63 AMG 507 Edition which delivered 500 hp and 450 lb-ft and is in line with the AMG GT S.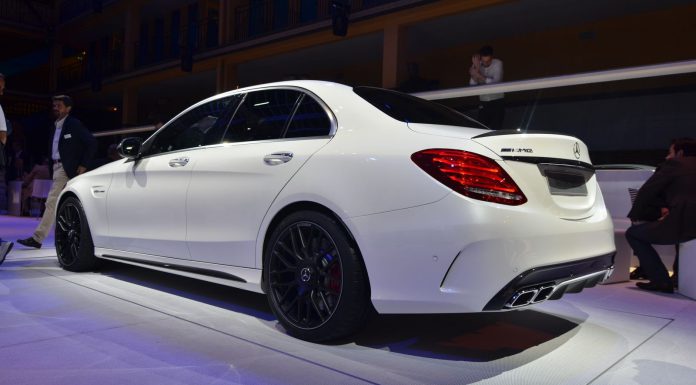 When it is all said and done, the new 2015 Mercedes-AMG C63 sprints to 100 km/h in just 4.1 seconds in sedan guise and 4.2 seconds in the optional Estate body style. By comparison, the C63 S reaches the same mark in 4 seconds flat as the sedan and 4.1 seconds as the Estate. Both variants and body styles are limited electronically to 250 km/h.
For more details about the 2015 Mercedes-AMG C63 and C63 S, be sure to check out our previous post. For full coverage from the Paris Motor Show 2014, head on over to our dedicated news channel.