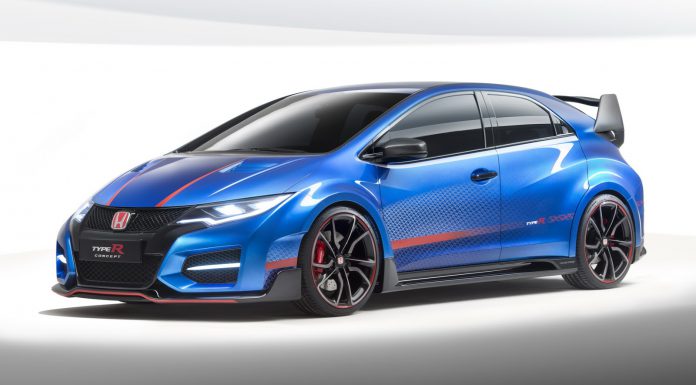 Prior to the Paris Motor Show 2014, Honda has just unveiled the second 2015 Honda Civic Type R Concept with this particular example finished in a bright shade of blue and complete with a new racing-inspired livery. Alongside the release of the new Civic Type R Concept, Honda has revealed new details about the hardcore Civic variant.
One of the key aims of the new Civic Type R is to make it the fastest front-wheel drive production car around the Nurburgring Nordschleife. That record is currently held by the Renault Megane RS 275 Trophy-R at 7 minutes and 54.3 seconds.
Honda is still refusing to release official performance details for the new turbocharged 2.0-litre i-VTEC petrol engine powering the next-gen Civic Type R other than confirming it will delivering over 276 hp. Torque will reportedly sit around the 300 lb-ft mark with power conceivably reaching over 300 hp.
The Japanese automaker has confirmed that the new engine will redline at 7000 rpm. In typically Honda fashion, peak end power will be provided by the i-VTEC system with the turbocharger providing extra power lower in the rev-range.
Discussing the car, the Civic Type R project leader Suehiro Hasshi said, "Honda has had four Type R model derivatives: the Civic, Integra, Accord and NSX. The engine in the new Civic Type R is unrivalled against all of them in terms of raw power, torque and engine response."
Thankfully, Honda has decided to fit the new Civic Type R with a traditional six-speed manual transmission and the car will inevitably reach 100 km/h in the mid-5 second range.
Beyond the engine, the 2015 Honda Civic Type R will utilise a new Adaptive Damper System with a new system at the front axle also set to be implemented to reduce torque steer.
A new +R button will also be fitted. It will provide improved engine responsiveness, modify the torque mapping, improve the responsiveness of the steering while also stiffening the suspension.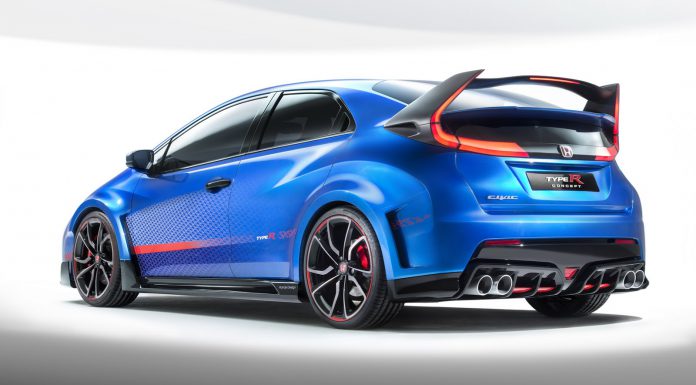 Discussing this new driving mode, Hasshi said, "In default standard mode, the Civic Type R is exceptionally agile, an everyday sports car with an enjoyable and fluid acceleration. The +R button brings out a more dynamic and athletic car for the driver, sure to set pulses racing.
"The difference in character is immense. The +R button is extreme; the car is ideal for the track and will be appreciated by the genuine sports driving enthusiast," he said.