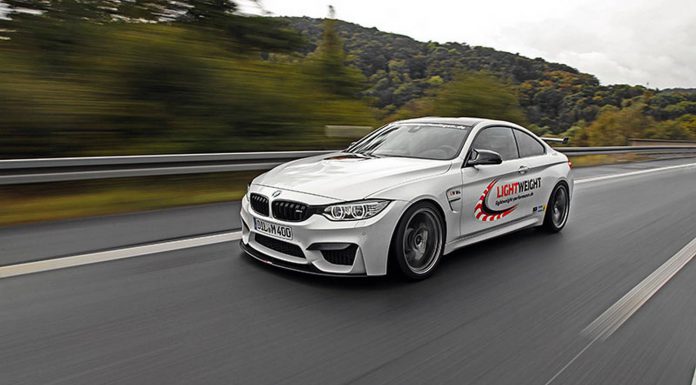 Just over one week ago, an interesting BMW M4 prototype was spied testing near the Nurburgring disguised as a MotoGP safety car. Now German tuner 'Lightweight' has revealed its upgraded M4 and it could very well be that car we saw during testing.
When the 2014 BMW M3 and M4 duo leave the factory, they both deliver an impressive 425 hp thanks to the 3.0-litre twin-turbocharged six-cylinder engine. However, Lightweight has managed to boost power to 520 hp as well as 650 Nm of torque at the flywheel. No details about how the power and torque gains have been achieved have been released but Lightweight does add a special titanium exhaust system to the German sports car.
Beyond the engine modifications, the BMW M4 by Lightweight features an uprated brake system with four piston calipers at all four corners. For wheels and tyres, Lightweight decided on BBS wheels measuring 19×9 at the front with 265/35-19 Michelin Pilot Sport Cup 2 tyres and 19×10 wheels at the rear with 285/35-R19 tyres.
Elsewhere, new Bilstein Clubsport coilovers have been added to dramatically improve the already impressive handling of the car.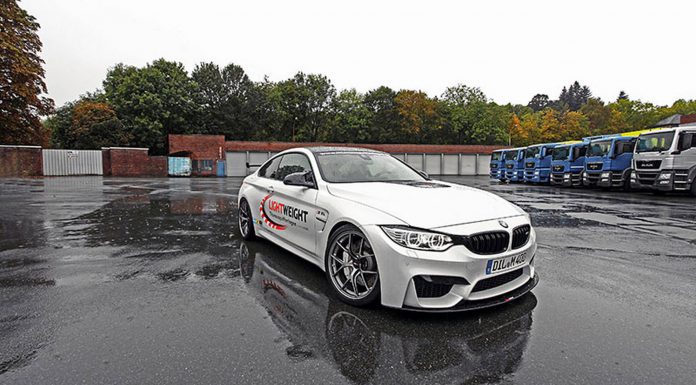 From a visual standpoint, the car features an adjustable rear wing which looks identical to the one worn by the aforementioned prototype spied at the Nurburgring. Additionally, Lightweight also add bucket seats with six point safety belts, a roll cage, new front splitter and a bootlid lip spoiler.