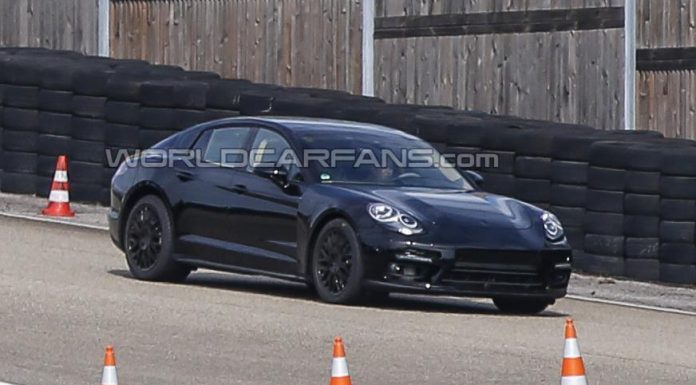 Another second-generation Porsche Panamera prototype has been spied testing under heavy camouflage with its new body.
The overall shape of the following test mule can be quite easily distinguished from the existing car in that it features a redesigned tailgate and different side windows. Hiding beneath the camouflage are new bumpers alongside revised headlights and taillights.
One of the most important updates for the next-gen Panamera is that it will ride on a completely new platform. This will be the MSB platform set to be shared across the Volkswagen Group. This platform will also be shared with the next-gen Bentley Continental and features a drivetrain mounted near the front bulkhead and within the car's wheelbase. By comparison, the powertrain in the Audi A8 is found well forward in the car.
The new Volkswagen MSB platform will incorporate a selection of high-strength and lightweight materials including a mix of aluminium and steel. Through the weight savings found in this new platform, Porsche is aiming for a modest weight reduction compared to the facelifted 2014 Porsche Panamera of around 90 kg.
Due to the ongoing success of the Porsche Panamera, Porsche will remain true to the four low-mounted seat setup and a sweeping roofline. The low-mounted seats serve to lower the Panamera's centre of gravity and benefit handling and Porsche is set to maintain a similar set-up for the next-gen 2016 Porsche Panamera.
From a design standpoint, the new Panamera should draw on inspiration from the Porsche Panamera Sport Turismo Concept.
[Via World Car Fans]