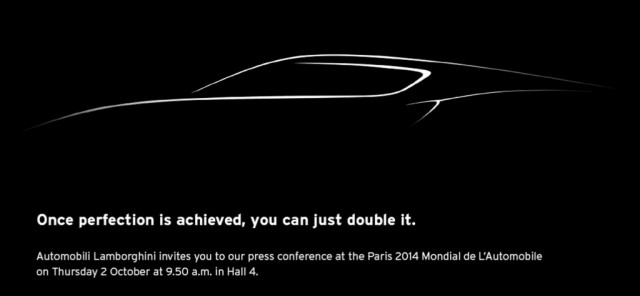 Just a couple of days ago, Lamborghini dropped an interesting teaser image of a new car debuting at the Paris Motor Show 2014 on October 2. While we'll inevitably receive more teasers in the lead-up to the car's worldwide debut, it has emerged that the model could be dubbed the Asterion.
On September 15, the Italian automaker applied to trademark the name Asterion for vehicles, clothing, toys and video games. Alongside this, the logo for the name was trademarked with it featuring typical sharp Lamborghini characters and interestingly, a lightning bolt through the 'o' in Asterion.
This has sparked (no pun intended) speculation that the new Lamborghini model could be the company's first hybrid vehicle. As for the actual name Asterion, it is a name for a creature in Greek mythology which is part bull and part man.

As for the recent teaser image, it provides an outlined silhouette of the car with the words 'Once perfection is achieved, you can just double it'. Now our guess is just as good as yours as to what that means but based on the overall shape of the car teased, the Italian marque could be preparing to launch an extremely sleek fastback four-door in a similar vein to the original Lamborghini Espada. Alternatively, there is some suggestion that it could be GT variant of the Aventador with an extended wheelbase and two small rear seats complete with rear suicide doors.
If either are true, then the new car will be a real surprise. After all, Lamborghini definitively ruled out the original Estoque concept for production a couple of years ago and has instead opted to launch a highly-exclusive luxury SUV by 2016.
We've learnt from past experience that simple drawn silhouette teaser images like this one can be quite deceiving at times with them often accentuating the lines of the real car in question. With that being said, Lamborghini very rarely releases cryptic teasers like this one unless it has something big in store.
For those that didn't know, the original Lamborghini Espada grand tourer was produced from 1968 through to 1978. Fitted with a large 4.0-litre V12 engine at the front, disc brakes at all four corners and independent suspension, the Espada became the firm's most successful model at the time.