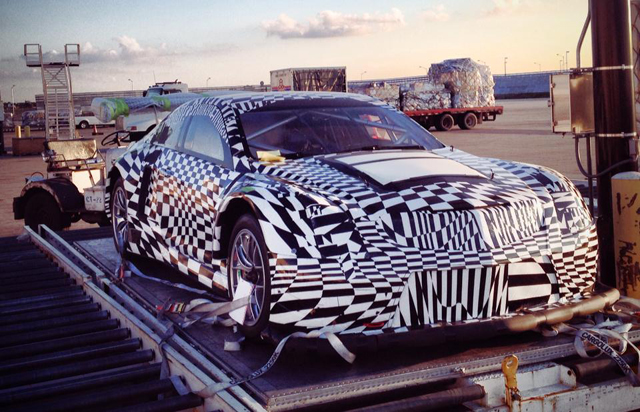 Just a few weeks ago it emerged that Cadillac was developing a racing variant of its new ATS Coupe. Now a potential prototype of the ATS-V GT3 racer has been spied at the O'Hare International Airport in Chicago.
It is possible that the prototype was on its way to the FIA's 2015 Balance of Performance test in France and despite yet to be confirmed, the car definitely has the same overall shape of the ATS Coupe. As you'd imagine, the racing variant features a new rear diffuser, bumpers, flared wheel arches, a towering rear wing as well as a stripped-out cabin and hood with a prominent power dome.
The car is pinned to replace the highly successful Cadillac CTS.V.R which has taken numerous victories in the Pirelli World Challenge over recent years.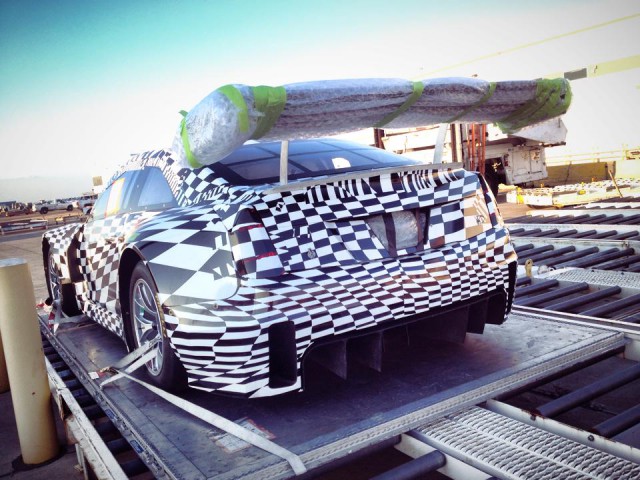 According to reports, development of the car is being led by Pratt & Miller Engineering. Development of the car is said to have progressed far enough that testing of the car has already started in Michigan. Apparently the Cadillac ATS Coupe racer has ditched the naturally aspirated V8 engine in favour of a twin-turbocharged V6 with all power sent to the rear wheels. This change is hardly surprising because the upcoming ATS-V is pinned to also use a twin-turbo V6.
One key change for the Cadillac ATS Coupe racer is that it could be created to meet GT3 racing rules. If that is achieved, the car will be made available to private teams for racing series' around the world and could consequently compete against established marques and cars like Porsche, Ferrari, McLaren and more recently, Bentley with their Continental GT3.
While the Cadillac ATS Coupe could become available for racers around the world, the company has confirmed that it will continue to compete in the Pirelli World Challenge.
[Via Sportscar365]