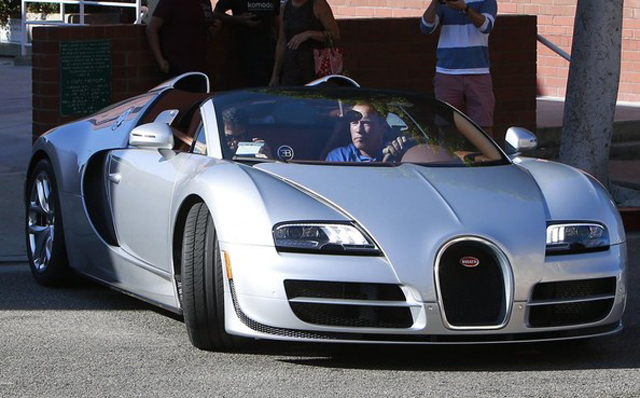 Just after Arnold Schwarznegger's custom 1977 Mercedes-Benz Unimog hit the used-car market, the actor and former California Governor was recently spotted behind the wheel of a silver Bugatti Veyron Grand Sport Vitesse in California.
While it remains unclear if Schwarznegger actually owns this Vitesse or if he was simply renting it or going on a test drive, the 67-year-old certainly looked comfortable behind the wheel.
Beneath the skin, the Grand Sport Vitesse has a truly huge 8.0-litre W16 engine featuring four turbochargers! As a result of this, the car delivers 1200 hp at 6400 rpm as well as 1500 Nm of torque between 3000 and 5000 rpm. Compared to the regular Veyron 16.4, the Vitesse has 199 hp more. This additional power has been achieved by using four larger turbochargers with new intercoolers. Furthermore, Bugatti has extensively reinforced all drivetrain components in order to safely transfer this immense power at all times.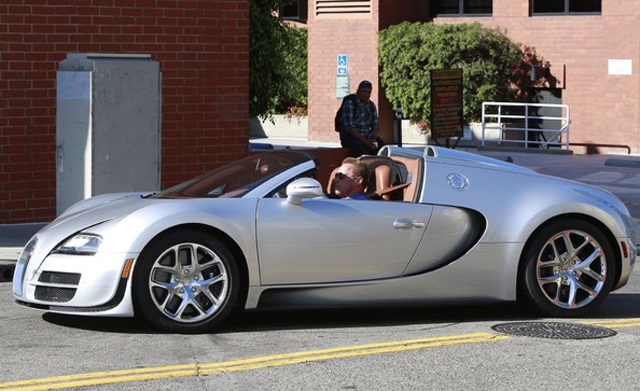 Thanks to this truly ferocious engine, the Bugatti Veyron Grand Sport Vitesse World Record Car reaches 100 km/h in a mere 2.6 seconds. It also hits 200 km/h in 7.1 seconds and in just 16 seconds flat will be travelling at 300 km/h. This translates into a 10 second quarter mile. As for the top speed, well that is where the Veyron Grand Sport Vitesse is in a league of its own.
Back in April last year, Chinese racing driver Anthony Liu piloted the Bugatti Veyron Grand Sport Vitesse World Record Car to a top speed of 408.84 km/h (254.04 mph). That record was achieved with the roof removed at the Volkswagen Group's proving grounds in Ehra-Lessien and means the Vitesse is the world's fastest convertible.
Compared to the 'standard' Veyron Grand Sport, the Vitesse adopts the same front and rear bumpers as the Veyron Super Sport but unlike the Super Sport, doesn't feature the same NACA engine air intakes and instead retains those from Veyron 16.4.
[Via Zimbio]