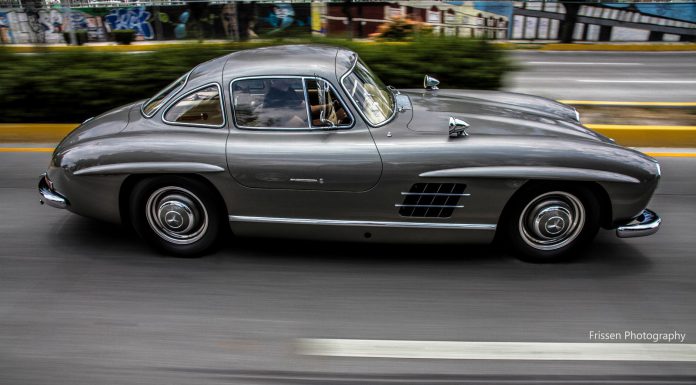 Somewhere in México, a mighty Mercedes Benz 300SL was photographed before leaving the country for the upcoming 300SL meeting in Canada.
An unrestored example in pristine condition opened its wings for us while letting the majestic form of its body show the racing heritage that led the designers to find alternative solutions to create the fastest car of the time. With an unvaluable price this car is a truly unique piece to be rolling on the streets. An original travel bag and crystal reservoirs are just an example of how well conserved the details on the car are.
The mint condition has given its owner the right to barely drive this car and keep it as a true piece of art should be, closely guarded in a secret garage. Since no Gullwing photoshoot is complete without reuniting the modern generation with its roots, a GTspirit friend brought over his silver SLS AMG to play around a little and get some beautiful shots of both cars on a typical Mexican background.
Rolling shots were a surprise for us, not only because of the muscular lines on both engineering marvels, but also because of the overwhelming acceleration the 300SL has for its age. It's clear that regularity rallies don't do justice to that racing spirit that lives on every lightweight early Gullwing.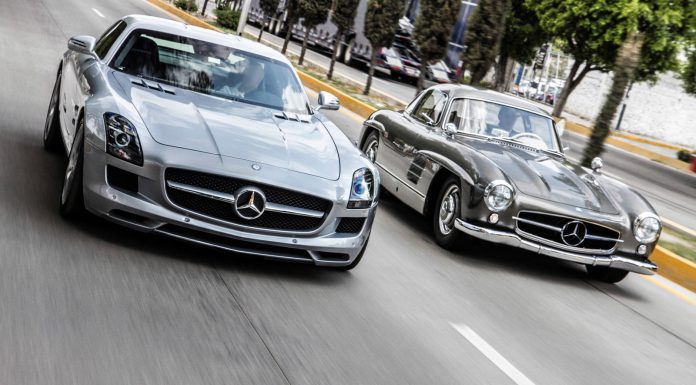 By the end of the day, the magic between more than 50 years of technological improvements and the handcrafted details was something we will never forget about. There's a moment when enormous horsepower figures, 0 to 100 times, lateral grip and acceleration are things you just don't care about anymore: the moment when you find true beauty within a race bred automotive masterpiece. When going through the 300SL worldwide gathering pictures in a near future, be sure to check out this particular car sitting among the others, proudly representing México.