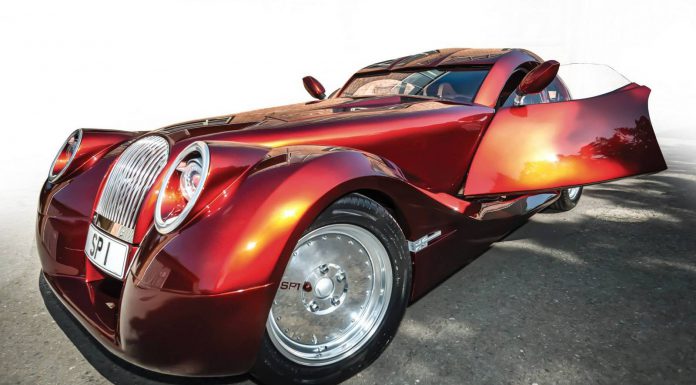 Morgan has unveiled the one-off SP1, the first product from its newly formed Special Projects Division, which from now on will work on special creations and fulfill other unique customer requests.
Morgan unveiled the stylish SP1 at the Salon Prive show in London on Wednesday. The special one-off project sits atop a typical Morgan egg-crate wooden frame, except this one is made from a blend of ash and African Bubinga red hardwood. The standout body, which pulls styling cues from the 2009 LifeCar concept, is made from handcrafted aluminium and has been painted in a multi-coat finish with a darker base layer underneath, making the paint appear more deep and vivid.
Under the bonnet sits the same 280 horsepower 3.7-liter Ford V6 found in the standard Morgan V6 Roadster, however it has been slightly tweaked with a model-specific engine management system and a custom sports exhaust. The suspension has also been retuned to deliver sportier driving dynamics.
The interior of the SP1 utilizes natural aniline leather throughout, which Morgan says "will wear and distress with use, maturing with each journey the client undertakes." There are also aircraft-inspired switches, an iPad integrated into the dashboard and a wood grain steering wheel and shift knob. The SP1 was commissioned by a single customer, but if you're lucky and you're wallet is big enough, maybe Morgan's Special Projects Division will put one together for you.