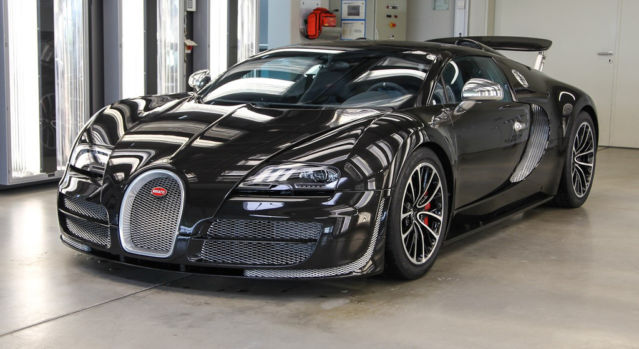 With just a few examples of the Bugatti Veyron yet to be sold, any interested Veyron owners will soon have no choice but to look at purchasing second hand examples of the French hypercar. The following 2015 Bugatti Veyron Grand Sport Vitesse is one of the last to roll off the production line and is currently up for sale from German dealership Auto Lehmann and could be perfect for those who've missed out on ordering one of the final Veyrons.
This particular Grand Sport Vitesse is finished in bare carbon fibre and looks absolutely exceptional. It has covered a mere 10 km so despite being sold by a third-party, is essentially brand new. The cabin features dark grey leather as well as contrasting red stitching and carbon fibre across the transmission tunnel.
Beneath the skin, the Grand Sport Vitesse has a truly huge 8.0-litre W16 engine featuring four turbochargers! As a result of this, the car delivers 1200 hp at 6400 rpm as well as 1500 Nm of torque between 3000 and 5000 rpm. Compared to the regular Veyron 16.4, the Vitesse has 199 hp more. This additional power has been achieved by using four larger turbochargers with new intercoolers. Furthermore, Bugatti has extensively reinforced all drivetrain components in order to safely transfer this immense power at all times.
Thanks to this truly ferocious engine, the Bugatti Veyron Grand Sport Vitesse World Record Car reaches 100 km/h in a mere 2.6 seconds. It also hits 200 km/h in 7.1 seconds and in just 16 seconds flat will be travelling at 300 km/h. This translates into a 10 second quarter mile. As for the top speed, well that is where the Veyron Grand Sport Vitesse is in a league of its own.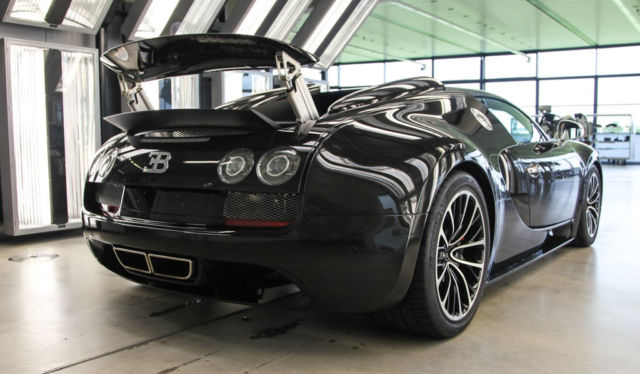 Back in April last year, Chinese racing driver Anthony Liu piloted the Bugatti Veyron Grand Sport Vitesse World Record Car to a top speed of 408.84 km/h (254.04 mph). That record was achieved with the roof removed at the Volkswagen Group's proving grounds in Ehra-Lessien and means the Vitesse is the world's fastest convertible.