Mercedes-Benz has turned out in force at the ongoing Moscow International Auto Show 2014 choosing to debut the S65 AMG Coupe there.
Beyond the S65, a stunning matte black Mercedes-Benz G63 AMG 6×6 was presented as was a Mercedes Formula One car, Mercedes-Benz GLA45 AMG Edition 1, a Mercedes-Benz ML-Class and many more.
The highlight was obviously the Mercedes-Benz S65 AMG Coupe however. The obvious draw of the new car is the engine. It is the fourth model in the Mercedes-Benz catalogue to come fitted with the legendary 6.0 litre V12 powerplant. The sedan S65 AMG, roadster SL65 AMG and the bonkers G 5 AMG all share the same engine. It is of course a fettled version of the 600-series engines offered in cars like the S 600. For the S65 AMG coupe it produces 630 hp between 4,800-5,400 rpm and 1,000 Nm between 2,300-4,300 rpm.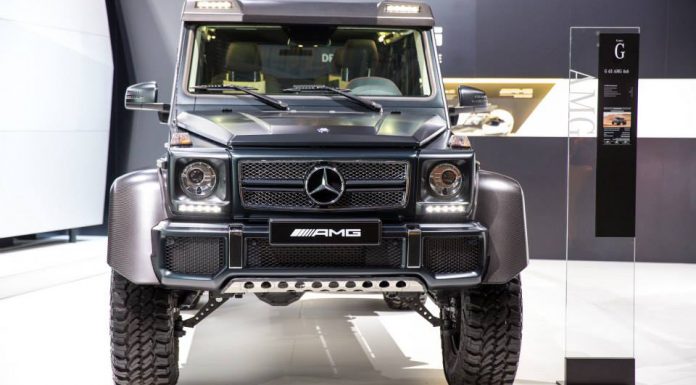 The power makes possible a 0-100 km/h sprint of just 4.1 seconds and an electronically limited top speed of 250 km/h. Efficiency is also impressive with a combined fuel economy figure of 11.9 litres per 100 kilometres and a 279 g/km CO2 rating. It is compliant with EU6 standard due to come into operation in September 2014. No mean feat for a heavy luxury V12 coupe!
Power is routed to the rear wheels via an AMG Speedshift Plus 7G-Tronic gearbox. Unlike the S63 AMG Coupe, the S65 AMG Coupe is not being offered with four wheel drive. The transmission allows three main settings; Controlled Efficiency (C), Sport (S) and Manual (M). All do as oyu would expect them to do with Controlled Efficiency using Stop Start to reduce down the petrol usage.
The S65 AMG Coupe gets a unique carbon fibre/aluminium engine cover and a 20 kg weight saving has been made by incorporating a 78 Ah lithium-ion battery to replace both the starter battery and the backup battery. The wheels are unique to the S65 AMG Coupe and measure 8.5 x 20 at the front and 9.5 x 20 at the rear, with 255/40 R 20 and 285/35 R 20 tyres. A standard AMG composite braking package is fitted to the car although for an extra cost, owners can spec a ceramic high-performance composite brake system.