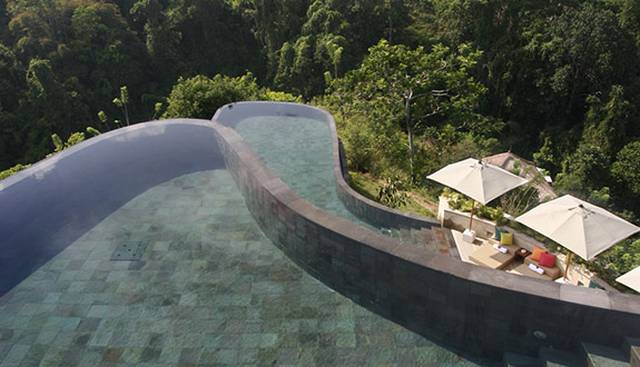 Hanging Gardens Ubud is without a doubt one of the most unique and desirable resorts in Indonesia. Making the resort particular noteworthy is the fact that it is located on a 45-degree angled hillside!
As a hotel perched adjacent to layered rice terraces with sweeping views across the Ayung River gorge to the ancient Pura Penataran Dalem Segara temple, Hanging Gardens Ubud's 38 villas are all constructed in contemporary Balinese style on gravity-defying wooden pillars with thatched alang-alang roofs.
Building work of the resort was finished in 2005 thanks to the hard work and dedication of 700 local craftsmen with the concept to create something magical and authentic to the Balinese jungle. The owners wanted to create an estate that took its inspiration from the surrounding countryside, a sanctuary inspired by nature that would be built harmoniously into the landscape leaving as small a footprint as possible. The aim was to protect and reflect the environments and to propagate and preserve local traditions and indigenous style. In building the expansive property, the designers were proud that only one tree needed to be moved.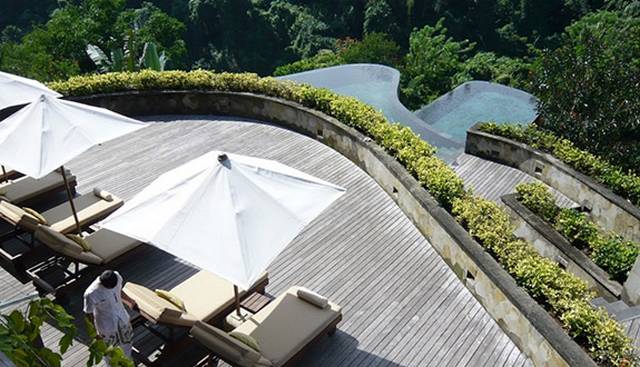 An abundance of bamboo was used in the building of the hotel, not just for construction and scaffolding but also planted in the landscape as shade protection from the sun. Traditional belief holds that being in a bamboo grove – the favourite dwelling place of Buddha – restores emotional calm and stimulates creativity.
The most amazing feature of Hanging Gardens Ubud resort is definitely its unique infinity swimming pool. As a matter of fact, the pool was rated the world's best swimming pool by Trip Advisor last year!