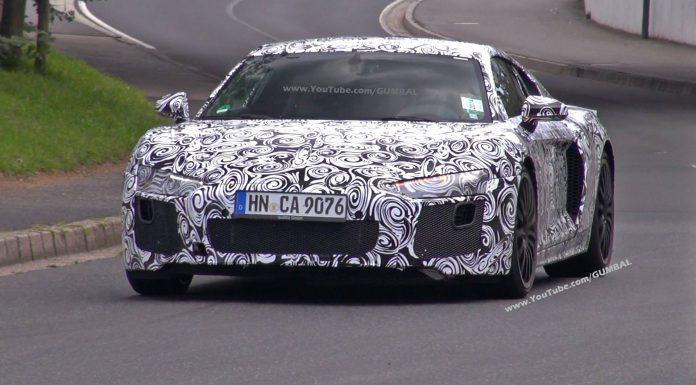 Testing has commenced on the next-generation 2015 Audi R8 V10 and the car has been spied testing on the Nurburgring for the very first time.
It is easy to identify that this is the 5.2-litre V10 powered model because it sounds very similar to the outgoing R8 V10 and dramatically different to the naturally-aspirated 4.2-litre V8. Interestingly, despite this V10 powertrain sharing many of its components with the new Huracan's engine, it sounds quite different.
[youtube]https://www.youtube.com/watch?v=CO384R6CikY#t=130[/youtube]
Of course, the 5.2-litre V10 engine isn't the only thing the next-generation R8 will borrow from the Huracan. It will be built around the same carbon fibre and aluminium chassis but feature a longer wheelbase and slightly wider track. An updated variant of the current car's S tronic seven-speed automatic transmission is expected.
At launch, the 2016 Audi R8 will be available with the aforementioned 5.2-litre V10 engine as well as a revised version of the current V8. However, down the road a forced induction engine is likely to be introduced at some stage during its production run with Ulrich Hackenberg recently stating that it "will need a turbocharged engine."
From a styling standpoint, we know it will feature sharper lines particularly in the headlights and taillights. Unfortunately, the recognisable side blades are expected to be ditched.