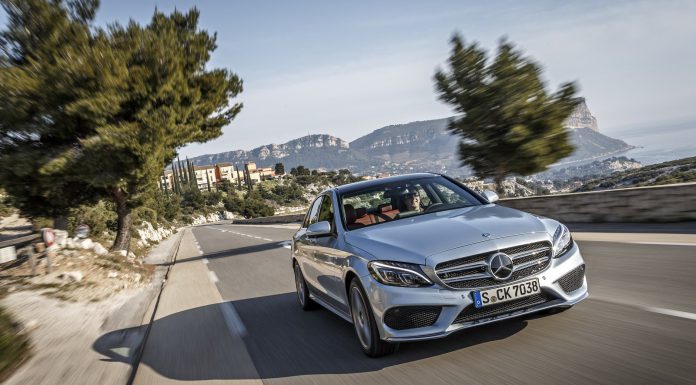 The 2015 Mercedes-Benz C-Class is likely to set an overall sales record in Australia for the German marque following high demand for the latest entry-level luxury sedan. By the end of the year, there's a possibility that 30,000 Mercedes-Benz models will be sold in Australia on the back of demand for the C-Class possibly propelling the firm into the list of top 10 brands nationally in 2014.
While speaking with Motoring, Mercedes-Benz Australia/Pacific Senior Manager of Public Relations, Product and Corporate Communications David McCarthy said, "We are year-to-date number 11… we loved it when we got into the top 10 in May. It's not a goal — it's nice to have, but we don't target top 10. But 30,000 units should be achievable this year, although it will be a stretch," he said.
Interestingly, the outgoing Mercedes-Benz W204 generation C-Class is actually outselling the brand new F30 BMW 3-Series. When the W205 Mercedes-Benz C-Class does arrive in Australia, it will initially be available with three different engines with a hybrid powered model to arrive later this year.
"We go on sale toward the end of August, so there won't be many C-Class sales in August except demos," explained McCarthy. "In September, October and December, that's when the new C-Class will hit its straps.
"We don't have supply issues… and knowing the level of enquiry on the car and that we already hold hundreds of orders, 30,000 sales (for Benz in 2014) is achievable."
Initially, Australia will receive the Mercedes-Benz C200, C250 and C250 BlueTec while the C300 BlueTec will arrive in December. The C200 is powered by a 2.0 litre four cylinder producing 184 horsepower and 221 lb-ft of torque. The C250 also has a 2.0 litre four cylinder producing 211hp and 350Nm of torque.
As for the C250 BlueTec, it is diesel powered and has a 2.0-litre four-cylinder with 204 hp and 500 Nm of torque. The C300 Bluetec Hybrid features the same 2.0 liter four cylinder engine as the C250 but thanks to the pairing with a 27hp strong electric engine has a reduced fuel economy of only 3.6 liters per 100 km compared to 4.3 l / 100km in the C250.
[Via Motoring]