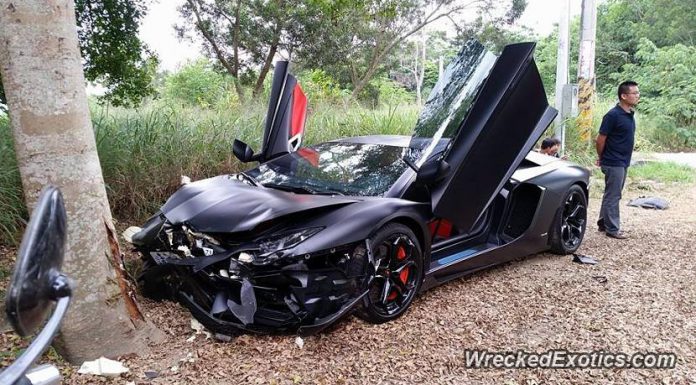 An absolutely gorgeous matte black Lamborghini Aventador has unfortunately crashed into a tree in Changhua City in Taiwan.
As is typically the case with crashes like these, it is hard to say what triggered this particular crash. However, this stunning Aventador was on a drive with a Lamborghini Gallardo LP 570-4 Super Trofeo Stradale and a yellow Aventador LP 720-4 50th Anniversario Roadster. There is also a small motorcycle lying on the road where the crash occurred so it was likely involved somehow.
As the images show, the front end of the stunning Italian supercar has been absolutely destroyed and will cost some serious coin to repair. However, with this Aventador featuring gloss black wheels and red brake calipers as well as red leather throughout the interior, it definitely deserves to be fixed swiftly rather than sitting in a repair yard for weeks or months!
[Via Wrecked Exotics]