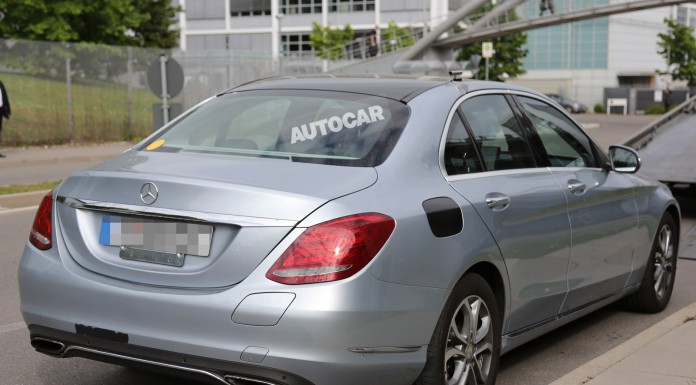 Just after new details about the upcoming Mercedes-Benz C 350 Plug-In Hybrid emerged online, Mercedes has official confirmed the existence of such a model while also revealing a snippet of other exciting details.
While speaking with Motoring, head of development for the C-Class Estate Ralf Rossmanith said that current testing shows the C 350 Plug-In Hybrid emitting less than 50g/km of CO2 emissions. Additionally, it is being suggested that the C-Class hybrid could sip just 2.0-litres/100 km or 117.6 mph in the US and 141.2 mph in the U.K!
At the moment, Rossmanith confirmed the model has an electric only range of 30 km but said this could be increased to 50 km for China.
Powering the Mercedes-Benz C 350 Plug-In Hybrid will be a 2.0-litre turbocharged four-cylinder petrol engine, the same as the one from the C 250. This engine typically produces 208 hp but in the C 350 Plug-In Hybrid, it will be used as an engine-generator. Mated to this internal combustion engine will be an electric motor providing an additional 67 hp. This electric motor will be joined by a battery pack (of which the size isn't known).
From a visual standpoint, two key features will immediately set the Mercedes-Benz C 350 Plug-In Hybrid apart from other C-Class models. First of all, the charging socket will be mounted in the rear bumper while the front grille has the ability to open and close to reduce drag while also reducing the time for the car to warm up.
[Via Motoring]