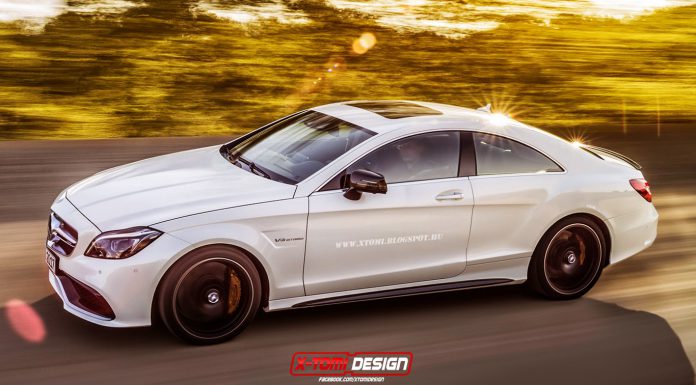 The facelifted 2015 Mercedes-Benz CLS may have only just been revealed but X-Tomi Design has already decided to render how a CLS 63 AMG Coupe may look. While the German marque will never creating such a car as it would be too similar to the E 63 AMG Coupe, the car pictured does look quite good.
In addition to the two-rear doors being removed, the Mercedes-Benz CLS 63 AMG Coupe rendered features longer front doors as well as a sleeker roofline. When combined with the aggressive features of the regular AMG powered CLS-Class, the car is a real winner in our books. With that being said, it can't touch the S 63 AMG Coupe in the looks department!
GTspirit review of 2015 Mercedes-Benz CLS 63 AMG S

If you've been following our coverage of the new CLS, you'll know that we recently had the privilege of sampling it in London. The facelifted, second-generation 2015 Mercedes-Benz CLS 63 AMG features the same engine as the car it replaces. This powertrain is the company's impressive 5.5-litre, biturbo V8 which ranks as one of the world's most efficient production eight-cylinder engines.
In standard specification, the new CLS 63 AMG delivers a brutal 557 hp and 720Nm of torque at 1750-5250 rpm. By comparison, the range-topping 2015 Mercedes-Benz CLS 63 AMG S 4Matic pumps out 585 hp and 800Nm of torque between 1750-5000 rpm.
Be sure to read more about our experiences in our in-depth review here!
[Via X-Tomi Design]