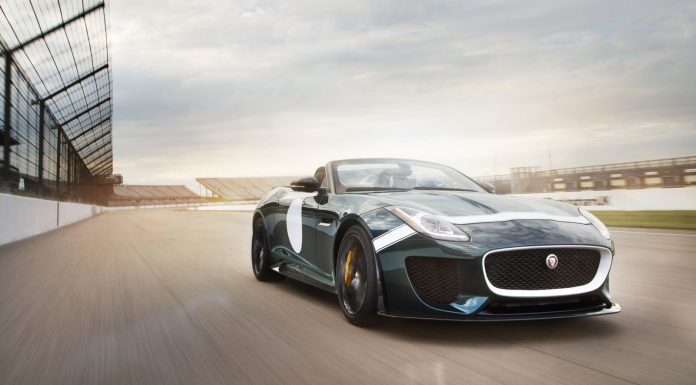 The production-spec 2015 Jaguar F-Type Project 7 recently made its world debut at the Goodwood Festival of Speed 2014. Unfortunately, it wasn't able to stretch its legs and instead will do so for the very first time at this weekend's Le Mans Classic.
Alongside the F-Type Project 7, the car will be joined by an F-Type Coupe R as well as the first Jaguar D-Type ever produced.
Although the car is obviously based on the F-Type convertible it will be built in a very different fashion, only the very basics of the car will be shared. This is a result of the foundation of an all-new special operations department that will be used for both Jaguar and Land Rover cars. JLR Special Vehicle Operations will be acquiring their own and separate facility in the West Midlands, UK, where a special team of 150 people will build, by hand, all 250 examples of the Jaguar F-Type Project 7 over a six-month period, more details of SVO in the future.
The Jaguar F-Type Project 7 represents the most performance-focused derivative of the acclaimed F-Type range and will be the most performance focused Jaguar on sale. With 567 hp and 680 Nm being produced from its 5.0 litre supercharged V8, the fully road-legal racer will hit 100km/h in 3.9 seconds and will keep pulling to a top speed of 300 km/h, only stopped by an electronic limiter.
The Jaguar F-Type Project 7 features an all-aluminium body and as a result the car weighs 80 kilograms less than the standard V8 convertible at 1585 kilograms. Power in fed to the rear wheels, which we are sure can burn rubber to the driver's hearts content, via an eight-speed Quickshift transmission and a second generation Electronic Active Differential (EAD) that first debuted on the R Coupe.