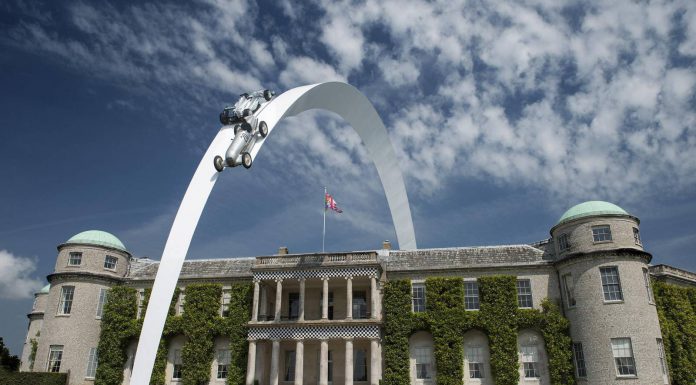 This year's Goodwood Festival of Speed 2014 centrepiece sculpture celebrates Mercedes-Benz. The Goodwood Festival of Speed has traditionally had a centrepiece display outside of the house every year. The German automotive giant is title sponsor this year and to celebrate, Goodwood has erected one of its most ambitious sculptures yet.
The Mercedes-Benz sculpture extends over and above the house running from the central lawn all the way over the the rear of the house. On approach to the festival it is easy to spot. Needless to say, it looks spectacular!
Created by artistic genius Gerry Judah, the sculpture is the most complex design to date and celebrates 120 years of Mercedes-Benz motorsport. The 45 metre curve features a replica of the 1934 Mercedes-Benz W 25 Silver Arrow and a Mercedes Petronus F1 W04 race car from 2013 (which will incidentally be running up the hill for the entire weekend!). The first and last eight-cylinder Silver Arrows Grand Prix machines!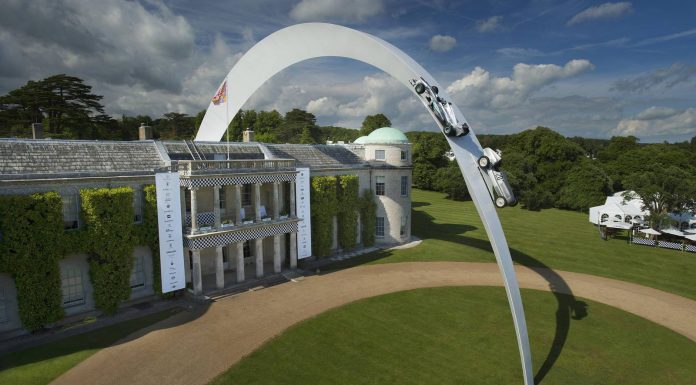 Michael Bock, head of Mercedes-Benz Classic, commented:
"The sculpture goes beyond my wildest expectations. It's truly amazing and an apt focal point for what promises to be a vibrant celebration of the most thrilling, most charismatic and most beautiful racing machines ever created. Our support of the Festival of Speed is stronger than ever this year as we celebrate 120 years since Daimler-powered cars won the first motorsport events in 1894. These tentative first steps set us on a course that's led us to where we are today – here's to the next 120 years of thriving competition, both on and off the track."
Goodwood resident Lord March explained:
"This year's Central Feature is the most architecturally and artistically challenging sculpture that we've ever had at Goodwood and it's a testament to the out-of-the-box thinking of Gerry Judah, which is very much aligned with our philosophy of constant innovation around the Festival of Speed. The result is a truly spectacular sight for all our Festival of Speed visitors to see."
The designer, Gerry Judah added:
"It is a tremendous opportunity to be asked by Mercedes-Benz to create a sculpture to celebrate their 120 years of motor racing. For this we have pushed the limits of what is possible with size and complexity in engineering, with a 160 tonne steel arch connecting two of their great historic cars over the top of Goodwood House. The sculpture also celebrates the dynamic between Mercedes-Benz and the Festival of Speed, which for me is a pleasure and a privilege to be involved with."