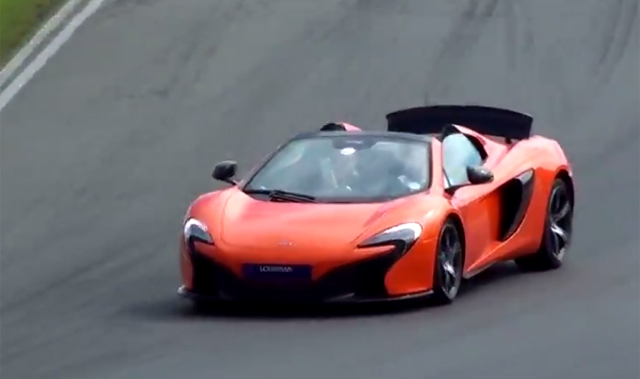 Having driven the brand new McLaren 650S Spider both on track and on the road, we know first-hand just how much of an improvement it is over the already impressive McLaren 12C. Featuring more power and torque, a new front-end design, tweaked suspension and braking systems among other changes, the 650S Spider really is a spectacular supercar in every sense of the world. Here we have a stunning orange example hitting the Assen circuit in the Netherlands.
[youtube]https://www.youtube.com/watch?v=cFTd7kYdOmQ#t=153[/youtube]
Designed to sit between the 12C and the P1, the new McLaren 650S is essentially a major facelift for the 12C. It answers feedback from the media and owners to make it an even more competent machine on the road and track and in the words of McLaren it is 'capable, not compromised'.
Whilst Ferrari have gone down their classic route of creating a hardcore version of the 458 in the guise of the new Speciale, McLaren have chosen to keep the car very drivable and offer some every day creature comforts like a rear parking camera and satellite navigation whilst improving performance and all-round drivability at the same time.
Under the hood, the McLaren 650S features the same 3.8-liter twin-turbocharged V8 engine as the 12C. However, McLaren have managed to squeeze out 642 hp and 678 Nm of torque improving acceleration, responsiveness and overall top speed. 0-100 km/h (62 mph) acceleration now takes only 3.0 seconds (coupe) and 0-200 km/h (125 mph) only 8.4 seconds.