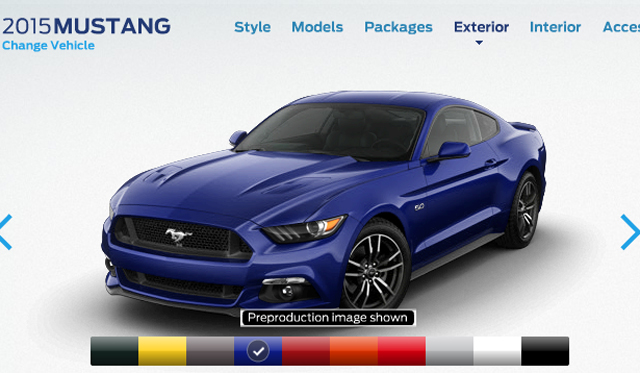 The online configurator for the brand new 2015 Ford Mustang has just been launched with the tool offering a huge selection of customisation options to perfectly spec the latest American muscle car.
When you follow the link here, you'll be prompted to enter a U.S. zip code. If you don't live in the U.S, simply enter a zip code like 90001 to be granted access to the tool. Once inside, you can choose from the Mustang fastback or Mustang Convertible while also having the ability to choose between the variant and its powertrain. From there, all the obligatory colour, exterior and interior customisation options are available!
The 2015 Ford Mustang is available from launch with three engines consisting of an upgraded 3.7-liter V6, a brand new 2.3-liter EcoBoost engine and a more powerful 5.0-liter V8 powerplant. The new EcoBoost 2.3-liter engine features direct injection, variable cam timing and a turbocharger to help deliver more than 305 hp and 300 lb-ft of torque.
The 3.7-liter V6 pumps out "at least" 300 hp and 270 lb-ft of torque. The top-of-the-line 5.0-liter V8 in the new Mustang GT produces more than 420 hp and 390 lb-ft of torque. All of these engines can be mated to an updated manual transmission as well as a reworked automatic gearbox featuring steering wheel mounted paddle shifters.