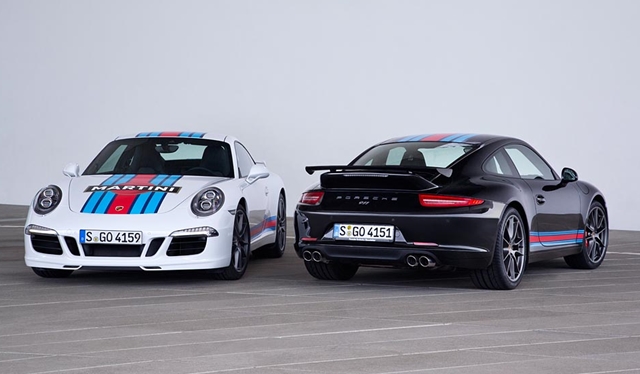 To celebrate their Le Mans return in an adequate way, Porsche has introduced a limited 911 S Martini Racing Edition.
The limited edition 911 reflects the styling of Porsche race cars of the 1970s and the special 911 Carrera S pays tribute to the successes of the legendary Porsche Le Mans race cars such as the 917 and the 935 Moby Dick. The special edition is limited to 80 units and will be exclusively sold in select markets of Europe, in China, Japan and in Latin America. For select 911 models, Porsche Tequipment will be selling the exclusive Martini decal set as an aftermarket kit in Germany and other markets.
The Martini Racing Edition of the 911 Carrera S is available in white and black. The boot lid, roof section, rear wing and vehicle's sides are accentuated by the Martini Racing Design decal set with the characteristic blue-red Martini colour pattern. The special front apron of the Aerokit Cup has an optimised spoiler lip. The car also receives a fixed rear spoiler from the Aerokit Cup, which rounds out the car's sporty look.
The changes regarding the interior include stainless steel door sill panels with "911 Carrera S – Martini Racing Edition" illuminated lettering as well as body-coloured dashboard accents with a Martini Racing Edition badge along with a standard Sport Chrono package and a sport steering wheel. Other standard goodies include Porsche Communication Management (PCM) with navigation module, black leather-wrapped electric sport seats, tachometer with black gauge and a Bose audio system.
The power of the Porsche 911 S Martini Racing Edition comes from the familiar flat-six 3.8-liter engine outputting 400 hp sent to the wheels through a PDK gearbox. This hardware arrangement allows the limited-run 911 S hit 100 km/h in 4.1 seconds.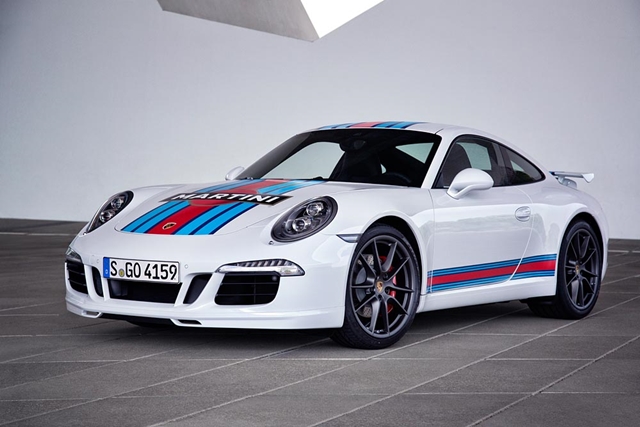 Starting in June 2014, the Porsche 911 Carrera S Martini Racing Edition will launch in the European markets of Netherlands, Italy, Spain, Poland, Ukraine, Czech Republic, Cyprus, Finland and Great Britain. Starting in August 2014, the special edition will also be available in China, and from October 2014 in Japan and in Latin America.