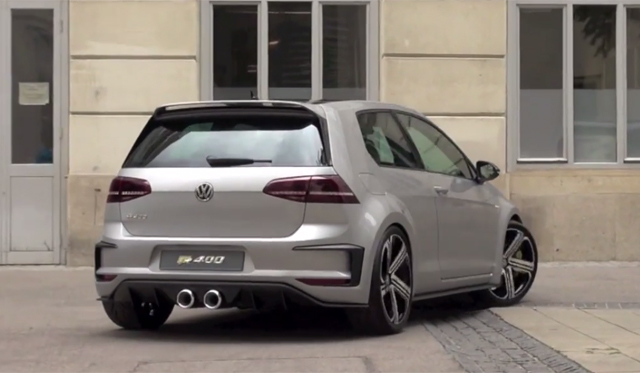 With 400 hp on tap, the Volkswagen Golf R 400 Concept is comfortably the most extreme Golf concept ever created which has a good chance of making it to production. Recently one lucky YouTuber managed to film the concept starting up and driving for the very first time and as you'd imagine, it sounds gnarly!
Based on the standard Golf R hatchback, the R 400 Concept shares the same 2.0 litre four-cylinder engine and 4MOTION four-wheel drive system. The Golf R 400 Concept is pumped up considerably with an extra 100 hp and 70 Nm of torque. Full figures are 400 hp together with 450 Nm of torque available from 2,400 to 6,000 rpm.
[youtube]https://www.youtube.com/watch?v=5hacWi2-9Fo#t=72[/youtube]
The concept was developed by Volkswagen R GmbH, the arm responsible for high-power and customisation projects. The extra power of the Golf R 400 helps propel the car, with its six-speed DSG gearbox, from rest to 62 mph in just 3.9 seconds. That's a whole second faster than the Volkswagen Golf R. Top speed is an electronically governed 174 mph.
To achieve the increase in power, the Golf R 400 features a new turbocharger with a higher maximum charge pressure and reinforced crankcase. Variable valve control with dual camshaft adjustment helps to improve economy and performance.
At 1,420 kg, the Golf R 400 weighs the same as the standard Golf R.
The bodykit is more outlandish though. With 20 mm added to each side, the flared wheel arches make its potential obvious. The bodywork is painted in a unique 'Silver Flake' metallic, and contrasted with a gloss black roof and carbon door mirror caps.