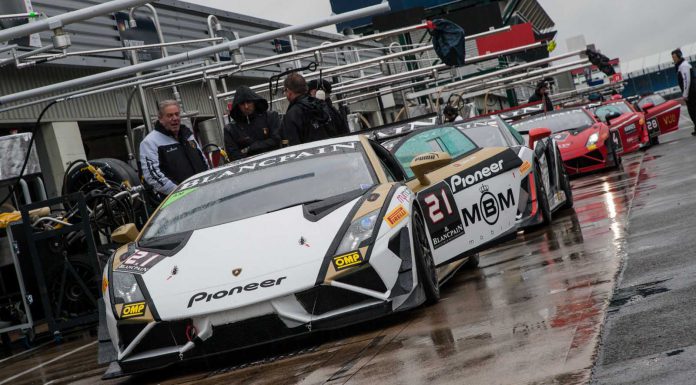 The Second round of the European Lamborghini Blancpain Super Trofeo has taken place today at Silverstone alongside the Blancpain Endurance Series, Cooper Tires British F3 and Formula Renault 2.0 NEC. The series at silverstone saw 24 cars take out onto track.
The first round of the European rounds started in Monza and saw Andrea Palma win the first race. The first race of the weekend was won by No 22 Jeroen Mul in the Automobil of Lamborghini Racing Team Germany who had a 10 second lead ahead of second runner No 3 Milos Pavlovic racing for Bonaldi Motorsport's. Third place went to Eurotech Engineering SRL No 32 driven by Giovanni Venturini.
First in the Pro AM Class was no 90 Autocarrozzeria Imperiale driven by Alberto Di Folco ahead of No 33 Bonaldi Motorsport's Sebastian Merchan, third in the Pro AM class was No 87 Mirai Project Emmebi Motorsport's Giacomo Barri.
Race one's winner no 22 Mul lead from the start of race two to take a double victory this weekend. Second overall went to No 25 GRT Grasser Racing's Gerhard Tweraser who was first in the Pro AM Class. Third overall was No 32 Eurotech Engineering SRL driven by Giovanni Venturini who was third in both races at Silverstone.
The next round of the Lamborghini Blancpain Super Trofeo Europe will take place at the Paul Richard circuit on June 28th. Our Photographer Steven Roe had the pleasure of photographing the event for us and we have included some of his shots from the weekend.