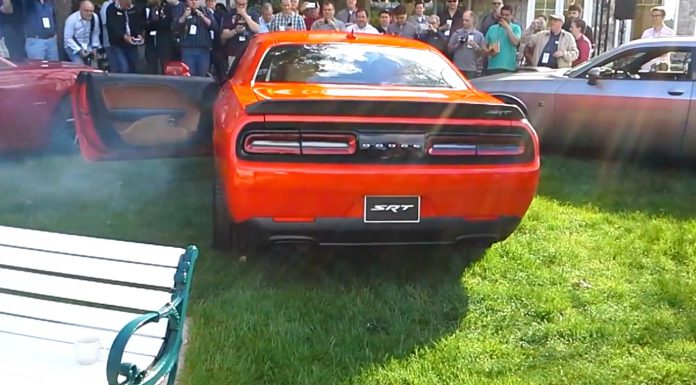 Big engine, big sound. The Dodge Challenger SRT Hellcat subscribes wholeheartedly to this philosophy. The evidence for this has just arrived in the form of this bitesize video filmed at the Midwest Automotive Media Association Rally.
The Hellcat is set to be the very best Challenger money can buy. The exhaust note sounds course and raspy, much like big block race cars do. We suspect this is a pre-production model and that the actual customer cars might not sound quite as insane as this example.
[youtube]http://youtu.be/YU2d3YpJVYk[/youtube]
There is a very real possibility that it will sound like this though, considering it features a power output in excess of 600 hp! The 2015 Dodge Challenger SRT Hellcat features an all-new supercharged 6.2-liter HEMI V8 engine, the most powerful that Chrysler Group has ever produced.
Design changes include a new front fascia and all-new vertical-split grille. It gets a larger, power-bulge aluminum hood with a dedicated "cold-air" intake much like the original Viper coupe. The hood comes standard in body color and is available in a Satin Black finish. The quad projector headlamps are new too as is the larger front splitter and supercharger fender badges. The rear gets a split tail-lamp design and new rear fascia. The diffuser is a new design, as is the taller rear spoiler.