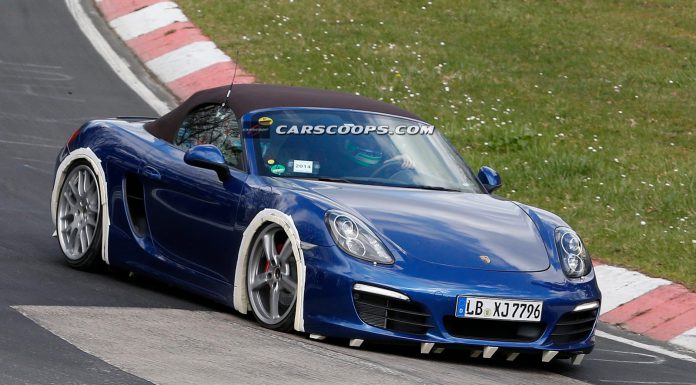 Not too long ago, Porsche confirmed that the next-generation Porsche Boxster and Cayman duo would feature a new turbocharged four-cylinder engine capable of delivering up to 395 hp. Now, a mysterious Porsche Boxster prototype was recently spied hitting the Nurburgring and according to those spies who snapped it, something interesting was going on under the skin.
Apparently, this prototype didn't sound like the flat-six the Porsche Boxster currently uses meaning a new engine could definitely be in the process of preliminary testing.
While Porsche fanatics may be disappointed that four-cylinder engines will be used in the next Cayman and Boxster, thanks to forced induction and a peak output of up to 395 hp, we think that as soon as you pin the throttle on the next-generation Boxster and Cayman duo, you'll completely forget about the lack of two extra cylinders!
Of course, this new turbocharged flat-four will sound significantly different than the current 3.4-liter flat-six naturally aspirated engine, but the extra power and extra speed of the next-gen Boxster and Cayman will definitely offset any possible sound deficits.
This new four-cylinder engine will become just the latest in a long-line of horizontally opposed engines produced by Porsche over the decades and follows on from the four-cylinder engine revealed for the Macan.
[Via Carscoops]