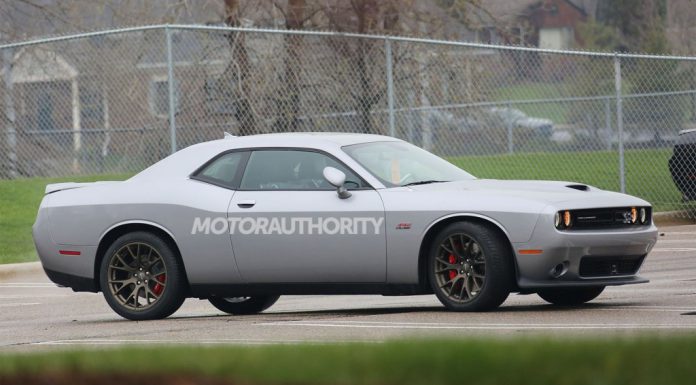 At the New York Auto Show last month, the highly anticipated 2015 Dodge Challenger was revealed. At its initial launch, a host of variations were unveiled ranging from the base Challenger SXT all the way up to the 392 HEMI Scat Pack Shaker. One noteworthy variation which was missing was the Challenger SRT. Now, the first spy shots of such a model have been revealed.
Wearing absolutely no camouflage, the 2015 Dodge Challenger SRT can be distinguished from the other versions thanks to its new hood with a prominent power dome and air intake, new bronzed SRT wheels and a prominent front splitter.
Under the hood, the 2015 Dodge Challenger SRT will be powered by a supercharged 6.2-liter V8. As it stands, the current Challenger SRT8 delivers 485 hp from its 6.4-liter HEMI V8 so it is likely the new car will deliver upwards of 500 hp.
However, Dodge won't stop there. Another SRT variation of the latest Challenger is on the cards fitted with the long-awaited Hellcat V8 engine recently filmed at idle. This powertrain is expected to deliver more than 640 hp meaning it will be more powerful than the Viper!
It is likely that the less powerful 2015 Dodge Challenger SRT model spied here will be unveiled first, possibly at the Los Angeles Auto Show later this year or the Detroit Auto Show next year.
[Via Motor Authority]