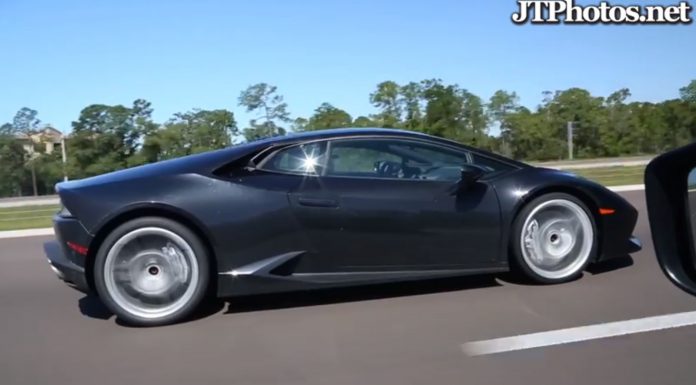 A video has emerged via Jason Thorgelson which shows a road rage incident which apparently occurred today in the Florida. Thorgelson explains that he spotted the Huracan headed in the opposite direction on a highway. He got off at the next junction, switched direction and caught up with the brand new supercar to get some exclusive on-the-road footage.
The driver of the Lamborghini obviously didn't like this and we are told that he attempted to lose Thorgelson. Next thing we see, an Audi A8 has entered the scene seemingly trying to cut off and prevent any footage being filmed.
[youtube]http://youtu.be/8qQKs3xakgQ[/youtube]
As Thorgelson explains:
As I approached the exit with the 2 cars behind me I was amazed the Audi forced his way on my right hand side and blocked my car from getting off the highway as the Lamborghini pulled in behind me. I have seen plenty of prototypes driving on the road well before production so I was shocked the driver of the Lamborghini was exiting the vehicle on the side of the highway and approaching my car. He immediately started yelling at me trying to intimidate me.
The video ends with Thorgelson calling the police. We are told that the Huracan fled the scene soon after with the A8 staying put for another couple of minutes. What isn't clear is whether the two individuals involved were Lamborghini/VAG test drivers or whether the car belongs to a dealership or customer. We suspect that they aren't Lamborghini test drivers as they don't fit the stereotype.
Clearly though, if the driver doesn't want the attention, why drive the car on public roads? We have contacted Lamborghini for comment and will keep you updated as and when we hear anything further.