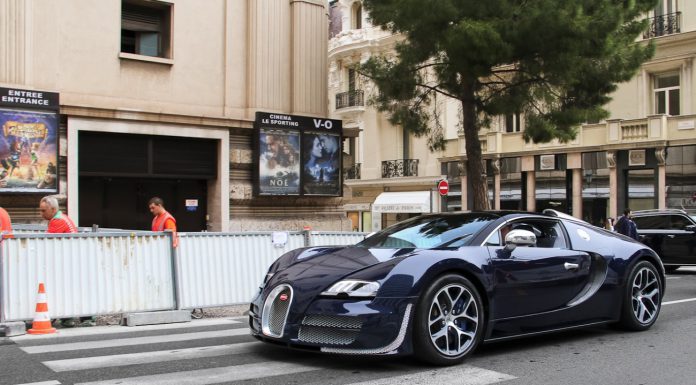 Monaco is home to the rich and famous and what better car to be see in cruising the Principalitie's boulevards than the Bugatti Veyron Grand Sport Vitesse! Inspired by the record breaking Bugatti Veyron Super Sport, the Veyron Grand Sport Vitesse is powered by a 8.0-liter W16 engine which puts out an impressive 1,200 horsepower (882 kW) at 6,400 rpm. The peak torque of 1,500 Nm is reached in between the 3,000 and 5,000 rpm.
Power is transferred to all four wheels via a seven-speed direct-shift gearbox with a shift time of 0.1 sec. The first gear goes all the way up to 104 km/h and the seconds goes to 148 km/h, an illegal speed is almost every country in the world. The third gear takes you to 197 km/h, the fourth to 257 km/h, the fifth 313 km/h, the sixth 377 km/h and the seventh gear takes you to the top speed of 410 km/h.
The latest Vitesse to hit the coast is finished in a rather subtle and very smart shade of blue that is completed simply with unpainted metal parts including the door mirrors and handles. These stunning images were captured by Raphael Belly!