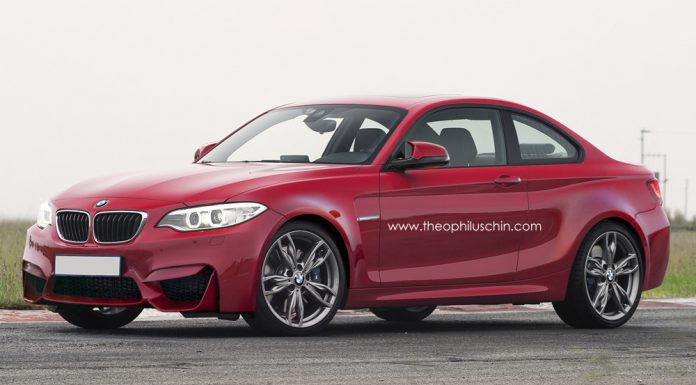 With a BMW M2 well and truly in the works, the sports car market could be a set for a real shake up with reports claiming the small M2 could deliver similar performance to its M3 and M4 brethren. In order to give us an idea of how the car will look, Theophilus Chin has created the following renderings and we must say, it receives our tick of approval.
Taking design inspiration from the new M3 and M4 as is most evident across the front bumper with the much larger and more aggressive air intakes, the M2 definitely has the makings of quite an attractive European sports cars. It will also likely feature M3 inspired wing mirrors while at the rear, a bumper again inspired by the M3 and M4 will likely be utilised alongside a new quad exhaust pipe layout.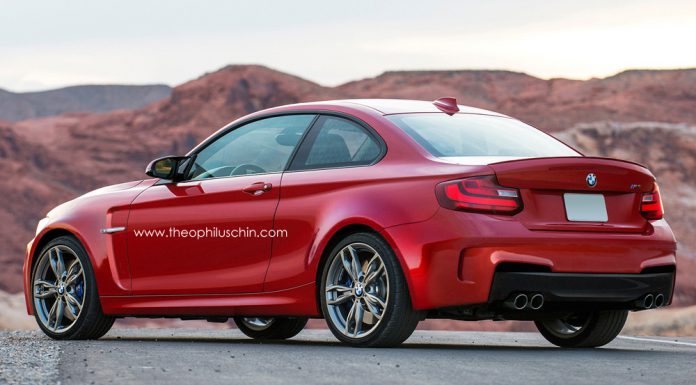 Previous reports suggested that the BMW M2 could utilise a souped up four-cylinder. However, the latest words suggest it will utilise an upgraded variant of the 3.0-liter, twin-turbocharged six cylinder engine found in the M235i. While BMW has yet to confirm this, this engine known as the N55 is apparent on the VIN numbers of the upcoming M2.
Instead of the current 322 hp delivered by this engine, it will likely be uprated into the region of 380 hp. To put that power into perspective, the newly released 2014 M3 and M4 deliver 431 hp respectively, but the lighter kerb weight of the future M2 could make it nearly as fast. Additionally, with its compact size, and the option of either an automatic or more importantly, a manual transmission, the BMW M2 is set to be a full-on sports car.
[Via Theophilus Chin]