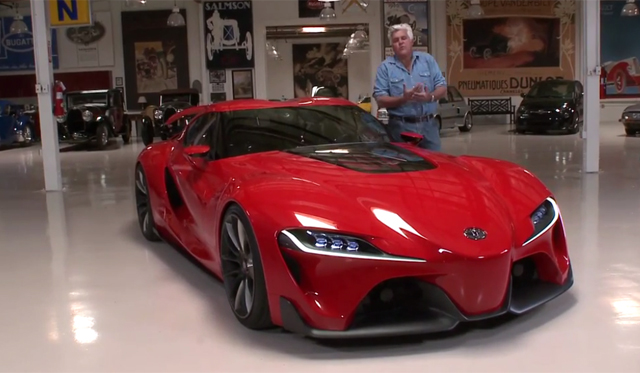 American comedian and TV veteran Jay Leno recently had the awesome opportunity to take an exclusive look of the stunning Toyota FT-1 sports car concept in his garage!
[youtube]https://www.youtube.com/watch?v=-v_FA0cjwuo#t=269[/youtube]
The Toyota FT-1 features the function-sculpting design language. This has resulted in a curved, muscular and expressive body the clearly seems to have been shaped to be as fluid and flowing as possible. Inlets, ducts, and vents are features of the exterior design that help reinforce its race–ready nature with elements of purposeful airflow management designed to keep the car at its optimum temperature. At higher speeds a retractable rear wing deploys and tilts generating yet more downforce and helping to keep the car planted.
The result of the radical design mean that the FT-1 is not only a very dynamic shape but one that is a feast for the eye, a real stunner that commands attention and further inspection. Alex Shen, Calty's Studio Chief Designer echoed this when saying at the car's launch, "Our team was heavily influenced by Toyota's sports car past, especially Celica and Supra, and we sought to capture some of that history. It is an aggressive, track-focused sports car concept with a presence that has been amplified for shock and awe."
The front engine rear-wheel drive configuration locates the cockpit far rearward within the wheelbase to improve weight distribution whilst adding to the visual drama. The cockpit's wraparound windshield and side glass openings are a distinct design element that instantly remind us of the Toyota 2000GT.